Table of Contents
ATM-focused supplement to Packet Magazine
Volume 2 Number 3, Third Quarter 1996
Cisco and StrataCom-Building the Next-Generation Network Infrastructure
"One of the Largest Computer Industry Mergers Ever"-Headlines like this one, announcing Cisco Systems' acquisition of StrataCom, Inc., have blazoned across the front pages of industry press in recent months. But, as industry spotlights dim and ink dries on legal documents cementing this technological union, how will this merger affect Cisco and StrataCom customers?
"The vendor of the future must be able to address the users' switching needs for the entire enterprise," observes Cisco customer John Scoggin, for Delmarva Power & Light Company in Newark, Delaware. Scoggin crystallizes the global mission of the Cisco/StrataCom merger-to deliver advanced technologies that meet and surpass evolving campus/metropolitan-area network (MAN), enterprise WAN, and intranet and Internet demands.
San Jose, California-based StrataCom is a leading supplier of high-speed Asynchronous Transfer Mode (ATM), Frame Relay switching, and voice technology. Delivered through StrataCom's IGX and BPX Service Node products, this technology integrates and transports a wide variety of information including, voice, data, and video. The combination of StrataCom's strengths in wide-area switching systems with Cisco's ATM internetworking and private network expertise will enable customers to exploit the power of true end-to-end connectivity across public, private, or hybrid networks.
The Cisco/StrataCom merger breaks ground for the next-generation network infrastructure. Combined strengths will initially focus on virtual private network services, such as Frame Relay, ATM, Internet, and intranet, and will enable flexible products that:
Speed the evolution of multimedia networks

Provide for much larger-scale networks with improved reliability

Drive network integration at lower overall costs

Support a wide range of service offerings

Next-Generation Network Infrastructure
Historically, LAN/WAN communications have been logically separate. In data-only LANs, bandwidth is free and connectivity is limited only by hardware and implementation costs; while in WANs, delay-sensitive traffic (voice, for example) has remained separate from data, and bandwidth has been the overriding cost. These conventions, however, are changing with new applications and the economies of supporting them.
ATM has emerged as the technology of LAN/WAN integration and can support any traffic type in separate or mixed streams, delay-sensitive or not. Scalable from low to high speeds, ATM provides the dynamic bandwidth allocation and high-speed switching that is required for greater economy and use in existing and future applications.
Telecommunications service providers recognize ATM as the basis for their emerging, lower-cost per bit services. In a deregulated telecommunications market, service providers need ways to deliver more services faster, and at lower operating costs. ATM provides these benefits and enables enterprise ATM networks to take advantage of new tariff structures and seamless, value-added public telecommunications services. LAN/WAN integration using ATM is the key to supporting emerging enterprise applications-and the Cisco/StrataCom union will provide the product set that supports this next-generation network infrastructure.
The next-generation network infrastructure can be divided into three ATM network environments:
Campus/MANs

Enterprise/WANs

Service Providers

Cisco/StrataCom products will meet the demands of each environment while seamlessly providing end-to-end connectivity.
The first in a family of next-generation, workgroup/campus ATM solutions, the Cisco LightStream® 1010 is a high-performance, standards-based, powerful switch for ATM workgroup and campus applications. The 5-Gbps, 32-port switch supports a range of LAN and WAN port types, including SONET/SDH at 155 and 622 Mbps; DS3 at 45 Mbps; E3 at 34 Mbps; and in the future, 25-Mbps ATM. The LightStream® 1010 is the industry's first switch to support key ATM Forum standards, including:
ATM User-to-Network Interface (UNI) signaling

Interim Interface Switch Protocol (IISP)

Private Network-Network Interface (PNNI)

Available Bit Rate (ABR)

While offering a highly flexible switching architecture, the LightStream 1010 sets new standards for ease of use, offering standards-compliant, "plug-and-play" capabilities. Network managers can bring up a network of LightStream 1010 switches automatically, using the switches' preconfigured ATM addresses. And this product's modular design promotes a cost-effective migration strategy for evolving enterprise networks.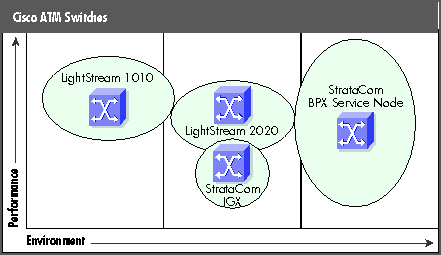 Within the enterprise/WAN environment, Cisco Systems now meets the needs of both broadband and narrowband applications with the StrataCom IGX and the LightStream 2020 ATM switches. Targeted to the requirements of mission-critical, broadband network applications, these switches are completely redundant and highly fault-tolerant. These high-performance, multipurpose and multiservice ATM solutions are uniquely architected to support burgeoning bandwidth requirements while improving network performance and controlling costs.
The Cisco StrataCom IGX augments Cisco's ATM solutions by meeting the needs of narrowband applications such as low-speed, serialized Frame Relay and voice processing. StrataCom, the first vendor to transport voice over a cell-based network, has a proven technology for transporting voice over ATM and Frame Relay networks-a significant capability. To reduce infrastructure costs and optimize the use of expensive backbone links, many users want to integrate voice transport over enterprise networks. StrataCom's preeminence in this area will allow Cisco to rapidly implement and deploy integrated transport networks.
The 1.2-Gbps IGX switch also reinforces the Cisco hallmark of product scalability. The IGX's chassis is available in 8-, 16-, and 32-slot options, accommodating plug-and-play upgrades. The IGX's ability to provide cost-effective data communications over an ATM infrastructure enables users to use low-bandwidth lines, while actually transporting more information (voice, for instance) over the line. The IGX achieves this economy through voice compression. Other features include:
Voice activity, which recognizes data absence and halts information transport

Fax detection, which transparently disables data compression to support facsimile or modem communications

The IGX is the ideal building block for private Frame Relay or ATM networks. It can also serve as an entry-level platform for service providers offering Frame Relay or ATM services.
Supporting up to 72 ports and 2 Gbps of throughput, the Cisco LightStream 2020 incorporates redundant power supplies, switching fabrics, network processors, and virtual LANs (VLANs). These features combine to make the LightStream 2020 ideal for applications requiring a single platform for data, voice, and video through Ethernet, Fiber Distributed Data Interface (FDDI), ATM, and T1/E1 interfaces.
The robust chassis of the LightStream 2020 accommodates any combination of nine hot-swappable ATM, LAN, or WAN modules for unsurpassed flexibility.
Cisco StrataCom BPX Service Node
The Cisco StrataCom BPX Service Node is a carrier-class 10-Gbps ATM switch that delivers a unique set of ATM solutions to the Cisco product set. Meeting the multiservice needs of the service provider market, the StrataCom BPX Service Node advances Cisco's commitment to seamless end-to-end connectivity.
The standards-based BPX Service Node provides backbone ATM switching and integration of multiple services, including ATM, Frame Relay, Switched Multimegabit Data Service (SMDS), and circuit emulation. It offers high-throughput and low-latency switching for a mix of traffic such as data, voice, images, and video. The BPX Service Node's multiservice design makes it a highly flexible platform for both existing and emerging user requirements.
Uniquely offering both narrowband and broadband functionality, the BPX Service Node is designed for service providers that are building infrastructures for their customers. Using the modular narrowband AXIS shelf, the BPX can deliver a tremendous amount of bandwidth on a 12-slot chassis. The BPX/AXIS can provide broadband connections through high-bandwidth ATM interfaces such as DS3/E3, and OC-3. The broadband shelf terminates broadband services and provides broadband networking at 34 Mbps. The AXIS narrowband shelf provides cost-effective termination of narrowband services.
This premier switch is also designed for maximum reliability. Every system component can meet at least 100,000 hours of mean-time between failures (MTBF). And each component can be configured with optional redundancy for even greater reliability.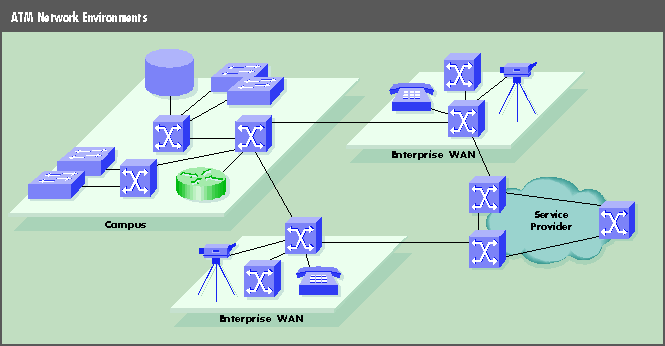 ___________________________________________________________________________________________________________
Pacific Bell Throws Open the Gates to the Internet with StrataCom ATM Switches
Nobody knows exactly how many people use the Internet, but virtually everyone agrees that even the estimates are staggering. The Internet connects approximately 42 million home pages and 35 million who users log on to conduct everything from basic information searches and e-mail exchanges to in-depth research and global electronic commerce. More than one billion e-mail messages pass over the Internet every day. Approximately 65,000 businesses are connected to the Internet, a figure that is growing at 14 percent each month. Between individuals and organizations, more than 130 million users are expected on the Information Superhighway by 1998.
If your company provides Internet access to businesses and individuals, how will you keep up with demand? Pacific Bell's Data Communications Group faced exactly this challenge. They met it head-on with a network solution based on Asynchronous Transfer Mode (ATM) switches from StrataCom, Inc., which is now a business unit of Cisco Systems.
Network Access Is Key to Future
Based in San Francisco, California, the Data Communications Group provides complete data networking solutions within Pacific Bell's California service areas. With 40 percent of all Internet traffic generated in California, the group's fastest-growing business segment is that of providing centralized Internet access through the Pacific Bell FasTrak Network Access Point (NAP). The NAP is one of four regional network access points in the USA that is sponsored by the National Science Foundation (NSF). Each NAP is a critical Internet traffic exchange point, providing centralized Internet access to Internet service providers (ISPs) who, in turn, provide Internet access to businesses and individuals. Pacific Bell's NAP customers include more than 25 US West Coast and nation-wide ISPs ranging from large international companies such as MCI, Sprint, and AGIS, to geographically based providers. Business has been good. So good, in fact, that the existing network was nearly pushed to its limits last year.
According to Warren Williams, Director of the NAP, "Internet traffic was clearly going through the roof. However, the Internet industry's current rate of growth has been increasing so sharply that no valid industry traffic data or models of traffic patterns existed. This made it extremely difficult to accurately project future traffic volumes and anticipate traffic patterns for diverse types of applications. Everyone in the industry expects rapid growth, but nobody really knows how high the ceiling is."
Williams knew that only a second-generation ATM switch would be able to handle the huge traffic volumes that the NAP would soon face. Another limitation of the existing network architecture was the fact that it didn't have the functionality required for reliably transporting TCP/IP traffic over a high-speed ATM network during peak traffic periods-a critical capability for carrying today's Internet traffic. Williams began searching for a new solution.
Williams had a list of four critical requirements for a new ATM switch solution. First, the switch had to have large buffers to effectively manage network traffic. Second, he needed very high backplane speeds, starting at 10 Gbps. To meet the service levels required by large ISPs, fast access speeds-from DS3 to OC-3 and beyond-were his third requirement. Finally, the solution had to be scalable. Conservative industry estimates projected the number of Internet users to triple in the next two years, so today's solution had to be able to handle this kind of growth-and potentially much more.
After extensive evaluation of several vendors' solutions, the Pacific Bell NAP selected BPX Service Nodes from StrataCom. As a major carrier of voice and data communication services, Pacific Bell wanted a carrier-class solution and the BPX delivered that quality. And according to Williams, the BPX not only met his criteria, but it delivered an extra bonus.
"The BPX was a windfall," says Williams. "Not only did it give us a carrier-class ATM solution, it provided us with sophisticated traffic management capabilities- built in." The BPX includes the industry's only closed-loop traffic management and traffic avoidance system. Based on a Virtual Source/Virtual Destination implementation of Available Bit Rate (ABR) services, the system dynamically manages traffic within the WAN to avoid traffic bottlenecks and eliminate cell loss. This implementation enables a carrier to fully utilize bandwidth and increase network efficiency.
"The BPX also delivered the large buffers we needed," Williams continues. In addition to large system buffers, the BPX provides buffer "firewalls" between connections. Unlike a shared buffer scheme, firewalls prevent misbehaving connections from affecting the performance of others. This capability ensures that bandwidth is fairly allocated among network users and enables service providers to meet required service levels. Williams feels that the BPX gives the NAP true ATM performance. "We'll be able to take advantage of OC-12 speeds (622 Mbps), which will give us an important competitive advantage in the carrier marketplace," he said. The network's heaviest users will also be able to take advantage of full ATM capabilities, allowing Pacific Bell to eliminate the interim FDDI network.
A Solution that Really Delivers the Mail
The StrataCom BPX Service Node increased the NAP capacity by 40 times, allowing Pacific Bell to handle 600,000 (up from 15,000) e-mail messages per second or equivalent data traffic. With this kind of bandwidth, room is assured for the millions of new Internet users who will log on in the next several years.
"The Cisco/StrataCom team understands traffic management," says Williams, "and that's one of the keys to successfully delivering today's high-speed data services. They have the vision for high-performance ATM and the understanding of how to build a carrier-class ATM switch that can deliver it."
Now Pacific Bell has the bandwidth and services needed to accommodate the millions of users who will soon regularly log onto the Internet. Keeping pace with Internet growth is no small undertaking-but today, Pacific Bell is equal to that challenge.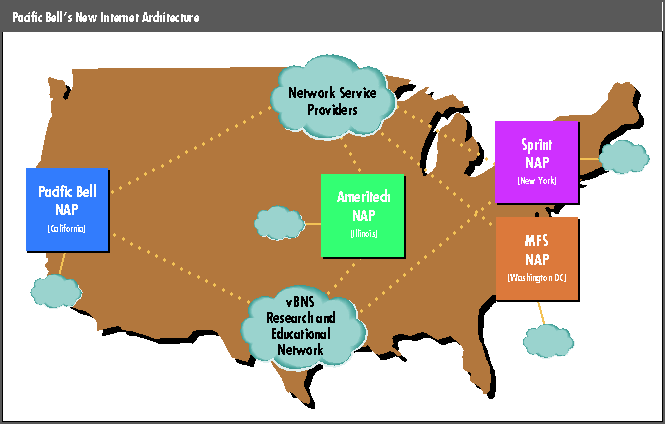 Pacific Bell is a subsidiary of Pacific Telesis Group, a diversified telecommunications corporation based in San Francisco, California. Pacific Bell's NAP is an application of the company's FasTrak ATM cell relay service. For more information about Pacific Bell, visit the URL http://www.pacbell.com.
Copyright 1988-1996 © Cisco Systems Inc.