Table of Contents
ATM-focused supplement to Packet Magazine
Volume 2 Number 2, Second Quarter 1996
The Cisco 4500 and 4700 midrange routers now support a network processor module for Asynchronous Transfer Mode (ATM) at DS3/E3 transmission rates. The new module complements Cisco's family of workgroup and enterprise switches to provide the most comprehensive end-to-end ATM solutions available today.
Available immediately, the new module supports DS3, a 45-Mbps standard for WAN transmission, and E3, the European 34-Mbps WAN standard, over ATM. The module runs on users' existing coaxial cable or fiber and, along with the previously released OC-3 (155 Mbps) ATM module for the Cisco 4500 and 4700 routers, gives users the industry's most complete set of ATM router interface options.
The LightStream® 2020 switch, working with the new ATM modules for the Cisco 4500 and 4700 routers, allows customers to integrate several types of LANs over ATM. And with the LightStream 2020, users can consolidate their voice and video networks as well. The switch software provides the same CiscoViewTM management capabilities supported by Cisco routers, ensuring consistency throughout the network.
A new network processor module for the Cisco 4500 and 4700 routers provides ATM connections at DS3 and E3 transmission rates (45 and 34 Mbps, respectively).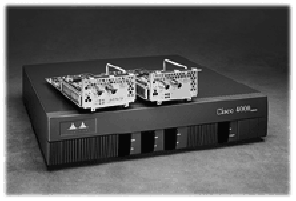 Equipped with an ATM module, a Cisco 4500 or 4700 can serve as an edge router or a backbone connection, providing either high- or low-speed access to WAN services or the enterprise intranet. As an edge router, the Cisco 4500 or 4700 provides LAN access to the ATM campus backbone. These routers can support as many as 12 Ethernet, 4 Token Ring, or 1 Fiber Distributed Data Interface (FDDI) segment connected to an ATM network. Likewise, they support serial and Integrated Services Digital Network (ISDN) interfaces for remote connections.
Network managers also can use Cisco 4500 and 4700 routers with DS3/E3 ATM modules to provide an economical means of transporting LAN traffic on private ATM networks or to connect LANs across DS3 or E3 ATM backbones, without need of external ATM Data Service Units (DSUs). Additionally, because the Cisco 4500 and the Cisco 4700 support traditional serial interfaces, the new DS3/E3 ATM modules can be used to connect ATM workgroup and enterprise switches to traditional, low-speed WAN services.
___________________________________________________________________________________________________________
Remote monitoring (RMON) has been a key tool for network managers to proactively monitor and diagnose traffic on distributed, LAN-based networks. Now, Cisco Systems and its partners have developed a specification that will help standardize and deliver the same RMON benefits for emerging Asynchronous Transfer Mode (ATM) networks.
Created in conjunction with six remote monitoring and analysis tool vendors, the ATM RMON Management Information Base (MIB) proposal defines how RMON agent software---embedded in ATM switches and distributed across ATM networks---can gather information for effective traffic analysis, bandwidth allocation, and troubleshooting. Cisco submitted the ATM RMON MIB as an Internet Draft to the Internet Engineering Task Force (IETF) in March and plans to submit it to the ATM Forum later this year.
"ATM RMON technology will help network managers save time and money monitoring ATM traffic on their networks while greatly increasing network availability for users," says Keith McCloghrie, Technical Leader in Cisco's Workgroup Business Unit and co-author of the ATM RMON draft specification. "It provides a new range of information on how ATM bandwidth is being used and by whom, enabling network managers to optimize their network topologies."
Traffic monitoring on traditional shared-media hubs is relatively easy, because all traffic is visible on any port. ATM networks, by contrast, because of their high speed and connection-oriented nature, demand more sophisticated management systems. For example, individual sessions are not always visible on the port to which a probe is attached, making traffic monitoring more difficult.
Building on the original IETF RMON standard and emerging RMON2 standard, the ATM RMON specification will improve this situation by helping network managers monitor ATM traffic and determine how their ATM bandwidth is being used. The specification also paves the way for cell-level ATM RMON instrumentation in ATM switch fabrics, the development of cell- and packet-level RMON probes embedded in ATM switches, and the integration of ATM monitoring tools with existing monitoring tools for shared-media LANs.
Cisco Systems has taken a leadership role in the formation of a number of key ATM specifications in addition to the ATM RMON MIB. The company was instrumental in developing the ATM Forum's Private Network-to-Network Interface (PNNI) and Available Bit Rate (ABR) service---key ATM routing and traffic management standards that will provide for scalable, production ATM networks.
___________________________________________________________________________________________________________
As more companies implement Asynchronous Transfer Mode (ATM) backbones to meet increases in networking traffic, network managers need to know who's using ATM bandwidth and how they're using it. Cisco Systems is working with the leading developers of remote monitoring (RMON) and analysis tools to set a new standard for monitoring ATM networks.
Cisco has joined with AXON Networks, Frontier Software Development, Net2Net Corporation, Network General Corporation, NETSYS Technologies, and RADCOM Equipment to draft a plan for ATM remote monitoring (ATM RMON). The proposal, already submitted to the Internet Engineering Task Force (IETF), defines what information RMON agent software should gather for network traffic analysis and troubleshooting. The group plans to submit an ATM RMON specification to the ATM Forum later this year.
The proposed standard will enable RMON applications, such as Cisco's TrafficDirectorTM software, and "what-if" simulation applications like those from NETSYS, to exploit RMON information in ATM backbones along with the RMON information found in RMON2 and enterprise RMON Management Information Bases (MIBs) used in existing LANs. For enterprises that rely on RMON solutions, the new ATM RMON specification makes ATM technology ready for use in mainstream production networks.
___________________________________________________________________________________________________________
Asynchronous Transfer Mode (ATM)---A form of digitized data transmission based on fixed-length cells that can carry data, voice, and video at high speeds.
ATM Adaptation Layer (AAL)---One of the three layers of the ATM protocol reference model. It performs segmentation and reassembly (SAR), translates higher-layer data into ATM cell payloads, and translates incoming cells into a format readable by the higher layers.
Available Bit Rate (ABR)---An ATM service type in which the ATM network makes a "best effort" to meet the transmitter's bandwidth requirements. ABR uses a congestion feedback mechanism that allows the ATM network to notify the transmitters that they should reduce their rate of data transmission until the congestion decreases. Thus, ABR offers a qualitative guarantee that the transmitter's data can get to the intended receivers without unwanted cell loss.
Constant Bit Rate (CBR)---A data transmission that can be represented by a nonvarying, or continuous, stream of bits or cell payloads. Applications such as voice circuits generate CBR traffic patterns. CBR is an ATM service type in which the ATM network guarantees to meet the transmitter's bandwidth and quality-of-service (QOS) requirements.
DS3---Digital signal level 3. Framing specification used for transmitting a digital signal at 45 Mbps through the telephone switching network on a T3 digital WAN carrier facility.
E3---Wide-area digital transmission scheme used predominantly in Europe that carries data at a rate of 34.368 Mbps. E3 lines can be leased for private use from common carriers.
ILMI---Interim Local Management Interface. Specification developed by the ATM Forum for incorporating network-management capabilities into the ATM UNI.
LAN Emulation (LANE)---The process whereby an ATM network emulates a significant part of the MAC protocol of an existing IEEE LAN, specifically Ethernet and Token Ring. LANE allows existing higher-layer protocols and applications to be used transparently over an ATM network that interconnects Ethernet and Token Ring LANs.
Multiprotocol over ATM (MPOA)---A relatively new standardization effort in the ATM Forum that will specify how existing and future network-layer protocols will exploit the unique benefits of ATM. These benefits include quality of service (QOS) and direct connections between different VLANs.
Permanent Virtual Connection (PVC)---A logical (rather than physical) connection between endpoints established by an administrator. A PVC stays intact until manually torn down.
PNNI---Private Network-to-Network Interface. An ATM Forum specification that allows ATM switches within a private network to interconnect. The specification describes an ATM virtual circuit routing protocol, as well as a signaling protocol between ATM switches.
RMON---Remote Monitoring. MIB agent specification described in RFC 1271 that defines functions for the remote monitoring of networked devices. The RMON specification provides numerous monitoring, problem detection, and reporting capabilities.
Switched Virtual Connection (SVC)---A logical connection between endpoints established by the ATM network on demand after receiving a connection request from the source or root. It is defined in the ATM Forum UNI specification and transmitted using the Q.2931 signaling protocols.
Traffic Shaping---A mechanism used to shape or modify bursty traffic characteristics in order to match a desired traffic contract.
Unspecified Bit Rate (UBR)---An ATM service type in which the ATM network makes a "best effort" to meet the transmitter's bandwidth requirements.
User-to-Network Interface (UNI)---The ATM Forum specification that defines the interface directly linking a user's device to an ATM network through an ATM switch.
Variable Bit Rate (VBR)---An ATM service type wherein a data transmission can be represented by irregular grouping of bits or cell payloads followed by unused bits or cell payloads.
Copyright 1988-1996 © Cisco Systems Inc.