Table of Contents
ATM-focused supplement to Packet Magazine
Volume 2 Number 1, First Quarter 1996
CEA Gets Next Generation ATM with LightStream Switches
The business of Commisariat à l'Energie Atomique (CEA), France's Commission of Atomic Energy, may be to undertake experimental and theoretical research in atomic physics, but there is nothing theoretical about CEA's networking requirements.
Seeking a Solution for the Future
CEA employs approximately 18,000 engineers in laboratories throughout France who experiment using new technologies to advance scientific knowledge in a wide spread of fields regarding atomic energy. According to CEA Network Manager Jean-Marc Fiéni, the organization began a quest two years ago for a networking solution that would carry it into the next century.
CEA's site in Fontenay, France, will be connected to the ATM WAN this year.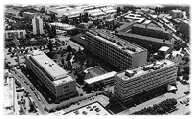 "Our need was for a networking infrastructure that would allow us to have the same technology for both our wide- and local-area networks," says Fiéni. "Plus, we needed to be able to provide virtual networks that could meet the needs of different users in terms of quality of service. Finally, we wanted to have a network in place that would meet bandwidth requirements for the foreseeable future."
Fiéni says the success that CEA has enjoyed with Cisco Systems products over the past four years drove the decision to deploy the LightStream® 1010 and 2020 Asynchronous Transfer Mode (ATM) switches. CEA installed eight switches--- three LightStream 2020s and five LightStream 1010 units. "The initial implementation of the Cisco ATM products has worked very well for the past year," Fiéni observes. "Based on this success, CEA is moving forward with an aggressive program to create a distributed ATM switched network."
CEA's migration to ATM technology has resulted in close cooperation with Cisco Systems. The migration involves the integration of networks at the workgroup, campus, and backbone levels, according to Cisco Product Marketing Manager Olivier Cognet.
"In order to improve its capabilities, CEA Information Systems division installed comprehensive computing applications that allow modeling, simulation and computation of final results for nuclear energy experiments," Cognet says. "To support such a large research and development business, CEA has sought to integrate applications on users' workstations. Videoconferencing and other technologies are also used to facilitate specialized workgroups. This evolution has seen CEA using different types of computers and computing models, including centralized mainframes, distributed high-performance workstations, and desktop computers."
The first requirement of CEA's networking infrastructure is to be able to internetwork computing applications such as CAD/CAM, modeling and simulation, and office and administration applications. For desktop connectivity within its laboratories, CEA is migrating existing shared Ethernet networks to both switched and Fast Ethernet networks and, in some cases, providing direct ATM connections to the desktop.
CEA chose Cisco's workgroup/campus ATM switching solutions to meet these requirements. The LightStream 1010 ATM switch offers nonblocking performance and high port-density, plus it conforms to ATM Forum standard signaling, which guarantees the interoperability of different computers used by CEA and the scalability of the network as the number of high-performance servers grows.
The second phase of the Cisco solution for CEA will be realized in the campus networks deployed at several CEA sites. Cisco 4000 and Cisco 7000 multiprotocol routers are already installed at CEA campus facilities. Additionally, CEA will add a LightStream 1010 switch to meet density and bandwidth requirements as it moves from a Fiber Distributed Data Interface (FDDI) 100-Mbps network to STM1 (155 Mbps) across these links.
Cisco is also involved in migrating the backbone interconnecting CEA sites in Saclay, Fontenay, and Grenoble to ATM WAN services. "The backbone architecture requirements were very complex," comments Cognet. "The traffic control capabilities had to be very sophisticated and capable of buffering and adapting all of the LAN and campus traffic before sending it over the WAN."
Cisco installed LightStream 2020 ATM switches in the primary CEA location and demonstrated the ability to meet all of the stated requirements. CEA is now positioned to use ATM on the WAN as soon as French service providers can deliver high-speed services of 34 Mbps or more."
At press time, CEA has deployed its Cisco Systems-based ATM switching solution only at its Saclay facility. "Saclay is served by a combination of Ethernet and FDDI networks with an ATM campus backbone," explains Fiéni. "The Grenoble and Fontenay locations are candidates for the Cisco solution in 1996."
Fiéni reports that the LightStream switching equipment installed at Saclay is functioning as expected. He anticipates that CEA will use LightStream switches to provide ATM connectivity to all users within CEA. "The number of switches could grow to more than 200 once the network is fully implemented," he predicts.
LightStream 1010: A Key Component
LightStream 1010 is the first of a series of new workgroup and campus switches. The product joins LightStream 2020 to provide comprehensive support for ATM on the desktop, over the campus, and across the WAN.
"It was very important to us," observes Fiéni, "that the Cisco product support the Private Network-to-Network Interface (PNNI) protocol and the Available Bit Rate (ABR) class of service. PNNI means that we do not need to configure network paths manually." PNNI enables a network of ATM switches to dynamically locate the best path for virtual connections and to recover almost instantly from any network interruption.
The LightStream 1010 features a five-slot modular chassis with a fault-tolerant, load-sharing, dual power supply option. The brains of the product are provided by an ATM switch processor module, which supports both the 5-Gbps shared memory switch fabric, and a high-performance RISC processor that provides the central intelligence for the device. Four carrier modules can also be added to the device, which can in turn support up to eight port-adapter modules. These modules provide the unit's support for a broad range of network media interfaces.
The LightStream 1010 supports the most advanced traffic management, ATM signaling, and routing capabilities. Congestion control, traffic policing, prioritization, intelligent packet discard, connection admission control, and traffic pacing are all supported on the ATM switch processor module and its feature cards. The unit can be upgraded easily as newer mechanisms are standardized or required.
ABR support, another feature important to CEA, provides a congestion control mechanism to guard against data loss and to provide maximum bandwidth efficiency. "ABR," Fiéni says, "is necessary to utilize bandwidth efficiently and to meet the quality of service specifications of our applications. We will be doing simulations of experiments in real time over the network. We will also be doing more videoconferencing for communication between sites and remote maintenance of new hardware deployments. These things require quality of service and response times that are possible only with ABR."
The LightStream 1010 ATM switch, announced by Cisco in late 1995, is the first switch to support ABR and PNNI, which the ATM Forum recently standardized.
The CEA/Cisco Systems alliance has provided a laboratory for the proof of new workgroup, campus, and backbone solutions in an ATM environment. "We are pleased with the evolution of Cisco's technology," reports CEA's Fiéni. "Because of their design integration of key ATM Forum protocols, the Cisco LightStream products are among the earliest machines to scale ATM deployment with efficiency."
The LightStream 1010 ATM switch provides desktop and workgroup connectivity to laboratories and offices at the French Atomic Commission's (CEA's) facilities. It is a key component of CEA's strategy to migrate its networking infrastructure to ATM.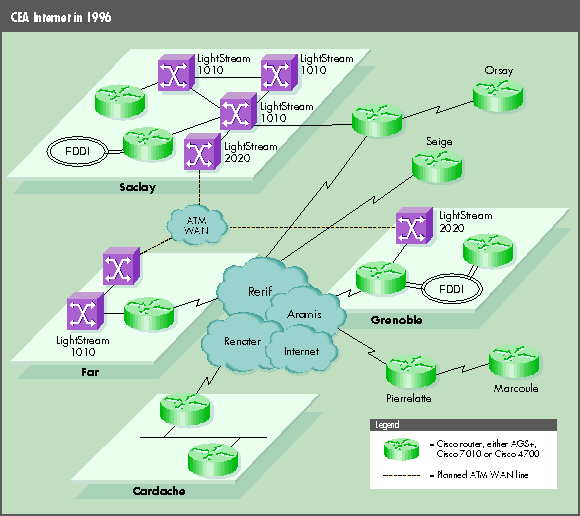 Asynchronous Transfer Mode (ATM)---A form of digitized data transmission based on fixed-length cells that can carry data, voice, and video at high speeds.
ATM Adaptation Layer (AAL)---One of the three layers of the ATM protocol reference model. It performs segmentation and reassembly (SAR), translates higher-layer data into ATM cell payloads, and translates incoming cells into a format readable by the higher layers.
Available Bit Rate (ABR)---An ATM service type in which the ATM network makes a "best effort" to meet the transmitter's bandwidth requirements. ABR differs from other best effort service types by employing a congestion feedback mechanism that allows the ATM network to notify the transmitters that they should reduce their rate of data transmission until the congestion decreases. Thus, ABR offers a qualitative guarantee that the transmitter's data can get to the intended receivers without experiencing unwanted cell loss.
Constant Bit Rate (CBR)---A data transmission that can be represented by a nonvarying, or continuous, stream of bits or cell payloads. Applications such as voice circuits generate CBR traffic patterns. CBR is an ATM service type in which the ATM network guarantees to meet the transmitter's bandwidth and quality-of-service (QoS) requirements.
Connection-Oriented---A type of communication in which a connection must be established between senders and receivers before data transmission can occur.
LAN Emulation (LANE)---The process whereby an ATM network emulates a significant part of the MAC protocol of an existing IEEE LAN, specifically Ethernet and Token Ring. LANE allows existing higher-layer protocols and applications to be used transparently over an ATM network that interconnects Ethernet and Token Ring LANs.
Media Access Control (MAC)---The lower half of the data-link layer that governs access to the available IEEE and ANSI LAN media.
Multiprotocol over ATM (MPOA)---A relatively new standardization effort in the ATM Forum that will specify how existing and future network-layer protocols will exploit the unique benefits of ATM. These benefits include quality of service (QoS) and direct connections between different VLANs.
Permanent Virtual Connection (PVC)---A logical (rather than physical) connection between endpoints established by an administrator. A PVC stays intact until manually torn down.
Port Snooping---A mechanism that some ATM switches use to eavesdrop on a selected ATM port, copying cells to another port where an ATM analyzer is attached.
Private Network-to-Network Interface (PNNI)---Also known as Private Network-to-Node Interface. The interface between two ATM switches or between an ATM switch and an entire switching system in a private network. The PNNI exchanges much more topological and complex quality-of-service (Q0S) routing information than the UNI.
Switched Virtual Connection (SVC)---A logical connection between endpoints established by the ATM network on demand after receiving a connection request from the source or root. It is defined in the ATM Forum UNI specification and transmitted using the Q.2931 signaling protocols.
Traffic Shaping---A mechanism used to shape or modify bursty traffic characteristics in order to match a desired traffic contract.
Unspecified Bit Rate (UBR)---An ATM service type in which the ATM network makes a "best effort" to meet the transmitter's bandwidth requirements.
User-to-Network Interface (UNI)---The ATM Forum specification that defines the interface directly linking a user's device to an ATM network through an ATM switch.
Variable Bit Rate (VBR)---A data transmission that can be represented by irregular grouping of bits or cell payloads followed by unused bits or cell payloads. Most applications other than voice circuits generate VBR traffic patterns. VBR is an ATM service type.
VLAN (Virtual Local-Area Network)---A collection of users or ports grouped together in a secure, autonomous broadcast and multicast domain. Membership in a VLAN is not restricted by physical location and can be defined across multiple LAN switches and ATM devices in the enterprise. A VLAN in an ATM network is built upon an emulated LAN segment. (See LAN Emulation.)
Copyright 1988-1996 © Cisco Systems Inc.