A At a high level, organizations that are planning for network consolidation must consider which applications will be supported at the outcome, what service levels the network must meet, bandwidth requirements on the WAN and campus network, and the preferred network management platform.


Mapping Cisco solutions to corporate requirements or strategies will help an organization determine a network design. This design can encompass existing routers plus LAN and ATM switches where more bandwidth is needed.

___________________________________________________________________________________________________________




Customers Enjoy Direct Mainframe Connections to Routed Internetwork

Mainframe computers from IBM remain the workhorses of many large data centers, but until recently they have been hindered by old communications technology. That's now changing with the introduction of Systems Network Architecture (SNA) support for the Channel Interface Processor (CIP) card from Cisco Systems. New SNA support within the CIP card enables routers to deliver SNA frames directly to the mainframe via IBM's Virtual Telecommunications Access Method (VTAM), increasing performance and reducing equipment costs.

New SNA support within the CIP card enables routers to deliver SNA frames directly to the mainframe, increasing performance and reducing equipment costs.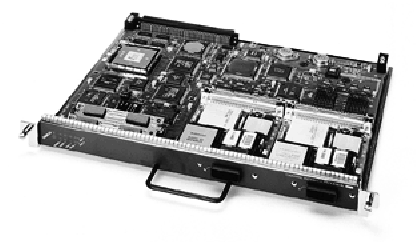 "The CIP card is a strategic piece of the internetworking puzzle," says Scott Palmquist, Product Manager for Cisco's InterWorks Business Unit. "It fulfills customers' requirements for integrating the mainframe data center with today's high-speed internetworks via a variety of network media and protocols."
Using mainframe channel technology that resulted from an agreement between Cisco and IBM's Large-Scale Computing Division, Cisco created a product that integrates mainframes into client/server networks. Each CIP card takes up a single slot in a Cisco 7500 or Cisco 7000 series router and supports two connections using either or both of IBM's channel-attachment technologies: the bus-and-tag technology found on many installed mainframes and the 17-MBps Enterprise Systems Connection (ESCON) architecture used on IBM's newer ES/9000 systems.
The CIP delivers IP, SNA, and Advanced Peer-to-Peer Networking (APPN) traffic to the mainframe, eliminating the need for expensive intermediary equipment such as IBM 3172 interconnect controllers and 3745 front-end processors (FEPs).
"The CIP enables the router to assume the functions of those devices, providing a more direct and cost-effective data path to and from the mainframe," says Palmquist. "The highly scalable CIP can support four FDDI or 16 Token Ring connections, replacing as many as four 3172s for dramatically increased performance and reduced cost."
These new communication capabilities were important to networking professionals at US West's Network Management Center, a service bureau in Englewood, Colorado, that provides network connectivity, host applications, and education to support US West's unregulated business ventures in 14 states. Until recently, US West relied on two 3745-610s to provide Token Ring connectivity and a large amount of the 3174 leased-line connectivity to an IBM mainframe.
"We support lots of types of networks and lots of different devices," explains Kelly Krull, a network engineer at US West. "We needed something that would help us minimize the number of vendors we have to work with and make our connectivity solutions more manageable."
Led by Brett Mild, a network analyst at the site, US West installed CIP cards in two of its Cisco 7000 series routers. "Today, the routers handle nearly all of our mainframe access," Mild says. "A big chunk of this is Token Ring, but we also have an Ethernet connection through the Cisco 7000 that handles FTP traffic."
According to Jill Young, US West's Manager of Network Connectivity, the company's goals were to reduce network costs while providing clients with additional FTP bandwidth to both mainframe MVS and mainframe VM systems. "The inherent flexibility of the Cisco solution allows us to do front-end processing and routing on the same box and gives us room to grow with new technologies," Young says.
For example, in addition to the Synchronous Data Link Control (SDLC) and Token Ring traffic formerly supported by the 3745, with the CIP cards in place US West can select from Fast Ethernet, DS3, Integrated Services Digital Network (ISDN), Frame Relay, and even high-speed, 155-Mbps Asynchronous Transfer Mode (ATM).
Cisco's latest release of the CIP technology also includes TCP/IP Offload, useful in SNA networks where it is desirable to have the mainframe share files with UNIX servers. Previously, users had to install a full TCP/IP protocol stack on the mainframe---consuming significant host resources---or use a standalone 3172 "offload host" to handle the TCP/IP processing and deliver data to the mainframe. The CIP now takes on the role of offload host, delivering data to the TCP/IP server applications on the mainframe through a sockets-level applications programming interface (API).
Palmquist believes that the work being done by network professionals at US West is indicative of a much larger trend. "Mainframe internetworking requires a new class of product, one that has not existed until now," he notes. "With Cisco's delivery of SNA and TCP/IP Offload, customers can begin to bring their data centers into the internetwork and continue to add capability as it becomes available."
Krull concurs. "Our needs are continually changing, but Cisco offers a good migration path," he says. "The Cisco 7000 with the CIP card offers us a lot of flexibility, from leased lines and Token Ring to Ethernet and ATM. It supports a wide variety of network media and protocols."
He pauses, considering the importance of his division's activities to thousands of US West users. "We have to be prepared to react quickly to customer needs, often with little advance notice," Krull concludes. "The Cisco 7000 gives us that capability while reducing our equipment costs. With the CIP card in place, we've made the router a full-fledged member of the mainframe environment."
Cisco 7000 routers equipped with CIP cards have simplified management tasks and reduced hardware requirements for US West; they also created opportunities for US West to install higher-bandwidth media such as Frame Relay and DS3.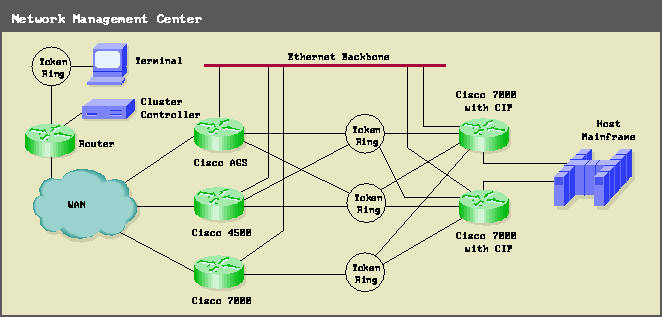 ___________________________________________________________________________________________________________
The tremendous growth of the Internet has created an awareness of future limitations of its original design. The most widely publicized of these limitations is the number of Internet Protocol (IP) addresses, which under current assignment schemes are expected to be exhausted early in the 21st century.
One Planet. One Internet. Brought to You by Cisco Systems.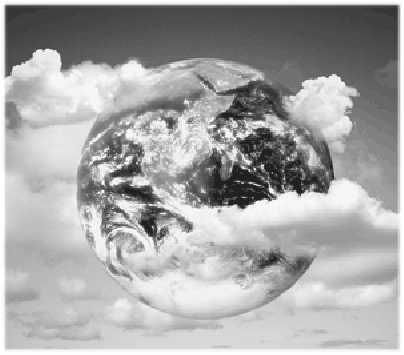 Cisco Systems is actively working on Version 6 of the Internet Protocol (IPv6), also known as IPng ("next generation"), which is emerging as the future standard for routing over the Internet. IPv6 is intended to solve the addressing problem and integrate features based on experience gained from the current IP, version 4.
IPv6 evolved from IPv4. The new standards define how the two protocols can interoperate and how networks can migrate from IPv4 to IPv6.
The IPv6 standards are expected to be supported by networking vendors on both new and existing equipment. However, a significant amount of work must be completed to test interoperability and implement transition strategies before IPv6 will become widely available. This work includes developing IPv6 stacks on computers, gateways between IPv4 and IPv6 networks, and routers that implement services such as Domain Name Service (DNS) and Dynamic Host Configuration Protocol (DHCP) for operation with IPv6.
While not yet complete, the IPv6 standards are expected to encompass several capabilities that will better support growth and change in the Internet. These capabilities include:
Expanded routing and addressing capabilities made possible by an increase in IP address size from 32 bits to 128 bits. IPv6 will incorporate hierarchical addressing as a fundamental capability to facilitate routing.

Two mechanisms for automatic configuration of IP addresses by network devices. Stateless configuration will enable a device or host to configure its own address over the local link to the router without using DHCP. Stateful addresses will be implemented in an IPv6 version of DHCP for autoconfiguration of intelligent hosts that contain DHCP clients.

Global "addresses for a lifetime" that enable an organization to move to a different Internet service provider (ISP) without changing IP addresses. The address assignment scheme of IPv4 is based on defined sets of addresses that are allocated to each provider.

Simplification of the IP header format to expedite packet forwarding.

Class-of-service definitions, based on traffic flows, that will improve performance for delay-sensitive applications such as real-time multimedia.

Highly integrated capabilities for user authentication and security, including encryption and continued use of firewalls.

For many customers, the transition to IPv6 is a decision that they won't need to make for many years. By developing extensions to IPv4, Cisco and other network vendors have already incorporated many of the beneficial capabilities of IPv6. For example, Classless Inter-Domain Routing (CIDR) and Network Address Translation (NAT) provide effective means of resolving the current limitations of IP address assignment. In addition, the Resource Reservation Protocol (RSVP) and weighted-fair queuing are among the options available in the Cisco Internetwork Operating System (Cisco IOSTM) software for defining quality of service on existing IP networks.
To help its customers prepare for an eventual migration to IPv6, Cisco continues to develop its implementation of the new standard while enhancing its extensions for IPv4. This concurrent development will give network managers the option to implement IPv6 when it becomes a standard if it is appropriate for their unique network conditions.
Several Cisco Systems engineers are members of the Internet Engineering Task Force (IETF) working group that is defining IPv6, serving as authors or editors of standards for the new protocol. In addition, Fred Baker, a Senior Software Engineer at Cisco, chairs the IETF. Cisco's involvement with projects such as the IETF development of IPv6 is an illustration of a continuing commitment to developments that enhance the infrastructure of the Internet.
Cisco has completed its acquisition of TGV Software and is integrating the TGV products into the Cisco product line. Now carrying the Cisco brand, TGV products enable users to build flexible, scalable, and easy-to-manage corporate intranets based on TCP/IP, the most popular internetworking protocol.
The following client/server software products are now available from Cisco:
Cisco MultiNet for OpenVMS: a full portfolio of TCP/IP services for DEC VAX and Alpha systems.

Cisco TCP/IP Stack 100 for Windows: 32-bit client software that operates on personal computers with Microsoft Windows 3.1 or later.

Cisco TCP/IP Suite 100: high-performance client software with features for network access, file transfer, Web browsing, and electronic mail. This product is available for Windows 95, Windows 3.1, or Windows for Workgroups 3.11.

Cisco Web Server: high-performance server software for Windows 95, Windows NT, Sun Solaris, and OpenVMS platforms. Based on Deferred Procedure Call (DPC), an advanced multithreaded architecture, Cisco Web Server dramatically reduces operating system overhead and increases network throughput by simultaneously processing multiple inbound connections.

"Cisco's newest software products deliver end-to-end network value," says Christine Hemrick, Vice President of Marketing for Cisco's Internet Business Unit. "We're helping our users build invaluable networks and Web sites capable of sharing information worldwide."
___________________________________________________________________________________________________________
Network managers understand that user demands for bandwidth will continue to grow beyond the capacity of today's shared-media Ethernet LANs operating at 10 Mbps. In response, many of these managers are considering deployment of 10-Mbps Ethernet LAN switches or 100-Mbps Fast Ethernet technology to meet increased demands for bandwidth. When choosing between these solutions, managers should consider three essential criteria:
The performance requirements of new applications as well as the aggregate traffic on the network

Management tools for monitoring traffic and detecting problems

The cost and effort of migration, as well as protection of current investments in equipment, wiring, and management expertise

A partnership between Cisco and Intel for VLAN functionality will ensure better, more cost-effective management of Fast Ethernet networks.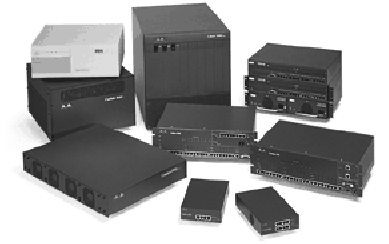 Cisco offers customers a wide range of solutions for both 10-Mbps LAN switching and 100-Mbps Fast Ethernet. Fast Ethernet solutions from Cisco include repeaters, routers, and switches, which benefit from powerful features for virtual LANs (VLANs) in the Cisco Internetwork Operating System (Cisco IOSTM) software and remote monitoring (RMON)-based traffic management. Cisco also has established a partnership with Intel Corporation for VLAN-capable adapters. Together, these products enable Cisco to offer the most comprehensive solution for managed Fast Ethernet networks.
CatalystTM Fast Ethernet Switches---A new 10/100BaseTX Fast Ethernet switching module in the Cisco Catalyst 5000 switch offers 12 interfaces that support the autonegotiation feature for determining operating speed and duplex mode between two connected devices. The recently announced Catalyst 2900 LAN switch supplies a 14-port, fixed configuration for wiring closet and data center applications. It enables users to deploy Fast Ethernet connections to LAN segments or high-performance workstations and servers using UTP or fiber-optic cable.
As defined by the Institute of Electrical and Electronic Engineers (IEEE) 802.3U Ethernet standard, the autonegotiation function enables network devices to exchange information about their operating speed and duplex mode over the connecting network link. With this information, the devices can perform automatic self-configuration to achieve the maximum common mode of operation over that link.
For example, the autonegotiation function on the Cisco Catalyst 5000 and Catalyst 2900 switches can determine if the switch port is connected to a 10-Mbps or 100-Mbps device and whether that device supports full-duplex or half-duplex communication. The autonegotiation feature then automatically configures the port of the switch to communicate with the device---with no involvement required from the network administrator.
Cisco Routers---Fast Ethernet interfaces for the Cisco 7000 and Cisco 7500 series routers are available in a broad range of cost-effective configurations on the Fast Ethernet Interface Processor (FEIP) and the Versatile Interface Processor (VIP). These interfaces provide high-speed access to critical network-layer routing services and enable network managers to optimize their Fast Ethernet routing solutions across a wide range of environments. Cisco will offer Fast Ethernet interfaces for other router series in the future.
FastHub® 100 Repeaters---Providing affordable 100-Mbps performance for "power users," server farms, and local switch backbones, the five models in the Cisco FastHub 100 family offer a range of port densities and support either unshielded twisted pair (UTP) wiring, fiber cabling, or both for unmatched configuration and media flexibility.
Fast Ethernet SwitchProbeTM---Embedded RMON, the recently announced Cisco SwitchProbe products, and CiscoWorksTM management applications provide essential control in networks with both 10-Mbps Ethernet and Fast Ethernet technology. The SwitchProbe products enable network monitoring for all nine groups in the RMON Management Information Base (MIB). When attached to a VLAN trunk, these products also provide statistics for each VLAN. Cisco's VlanDirectorTM tool enables managers to configure their networks based on logical user groups rather than geographical location. The TrafficDirectorTM application leverages embedded RMON agents in Cisco LAN switches to provide information for traffic monitoring and analysis. And the CiscoViewTM application delivers graphical device-level management of all Cisco Fast Ethernet products.
Fast Ethernet Adapters---Intel plans to incorporate Cisco's InterSwitch Link (ISL) VLAN technology in the next generation of Intel's Fast Ethernet EtherExpress Pro/100 Smart Adapter, which is optimized for servers. This joint development by Intel and Cisco will give customers significant cost savings, VLAN performance enhancements (available in the fourth quarter of 1996), network scalability, and configuration flexibility. The enhanced adapter will enable a single server to communicate in multiple VLANs for economical and flexible integration of different LAN applications.
Given the benefits offered by Fast Ethernet for many networks, Cisco Systems will continue to support this technology in additional products. This support is part of Cisco's commitment to delivering choices for customers as they evolve their internetworks.
Catalyst 5000 Receives Data Comm Tester's Choice Award
The Cisco CatalystTM 5000 took top honors in recent tests of high-speed LAN switches conducted by Data Communications magazine. In giving a "Tester's Choice" award to the product, the magazine's editors noted, "The performance of Cisco's Catalyst 5000 was astounding---it took top honors in every test.... For best performance on the backbone, this is the box to buy."
Catalyst 3000 Presents Cost-Effective Switching for Wiring Closets
The CatalystTM 3000, recent winner of Data Communications magazine's "Hot Product" award, is now an even more cost-effective switching solution than before, thanks to a recent price reduction from Cisco Systems.
With the Catalyst 3000's unique stacking architecture, high level of manageability, and support for virtual LANs (VLANs) over Fast Ethernet or ATM, this switch makes a powerful complement to Cisco's recent additions to its Fast Ethernet product offerings. A Catalyst 3000 stack supports up to 16 Fast Ethernet ports for high-speed connections to servers or the network backbone, or for "feeding" workgroup traffic directly to a Catalyst 5000.
___________________________________________________________________________________________________________
Users, partners, and analysts are hailing NetFlow Switching as a quantum leap in routing technology because it provides high-performance, connection-oriented network-layer switching for important Cisco Internetwork Operating System (Cisco IOSTM) software services such as security, quality of service (QOS), and traffic management.
NetFlow Switching offers significant enhancements to the routing element of the CiscoFusionTM architecture, which allows customers to use routing, LAN switching, and Asynchronous Transfer Mode (ATM) switching to build scalable, distributed internetworks that will meet their future needs.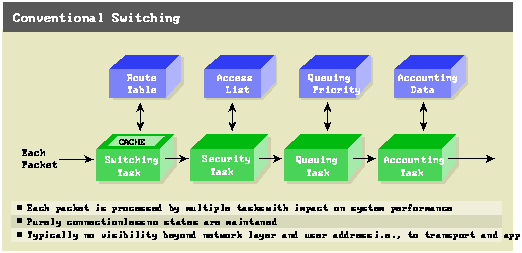 "With NetFlow Switching, users not only can perform valuable network services at high levels of performance, but also can apply these services on a per-user, per-application basis," says Richard Palmer, Cisco's Director of Marketing for high-end routing products. "High-performance network-layer switching, coupled with Cisco IOS software services, gives customers a rich, extensible set of technologies for corporate and service provider backbone networks."
NetFlow Switching springs from an exciting new software technology that identifies traffic flows between internetwork endpoints and then, on a connection-oriented basis, combines the switching of packets for these streams with the application of relevant services. Because network services such as checking access lists and storing traffic accounting data are integrated and performed in tandem with the switching function, total system performance is significantly increased. In addition, by identifying flows that use both network-layer and transport-layer information, NetFlow Switching allows Cisco IOS software services to be applied based on the application and endpoint with which an individual user is communicating.
The extensive traffic statistics generated by NetFlow Switching can be exported to network management applications using a mechanism in the router software called NetFlow Data Export. Using this capability, the router exports information about "expired" flows to an external data collector such as RMON2 probes or user-written applications.
"Customers will benefit from the enthusiastic and rapid support of NetFlow Data Export by Cisco's network management partners," Palmer notes. "This capability enables users to deploy NetFlow Switching and immediately use the wealth of traffic information it provides."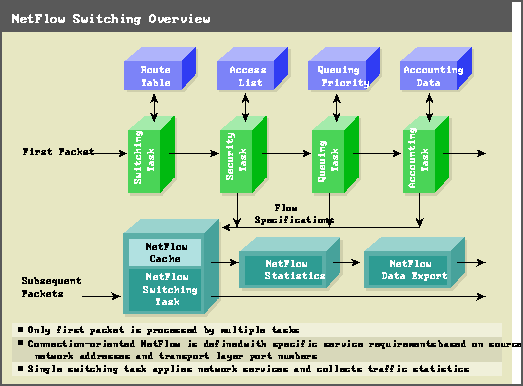 Initially, users can activate NetFlow Switching to dramatically increase the number of security access lists that can be supported and to collect traffic accounting data without sacrificing performance. Over time, NetFlow Switching also will provide increased performance for Cisco IOS software QOS queuing mechanisms and session-level encryption services.
Through a simple software upgrade, users can employ NetFlow Switching on Cisco 7500 systems and Cisco 7000 routers equipped with Route Switch Processors (RSPs). The upgrade will be available by June. Support for NetFlow Switching on other Cisco routers will be provided over the course of 1996.
On Cisco 7500 series routers, NetFlow Switching can take advantage of new distributed switching and service capabilities provided by the Versatile Interface Processor (VIP) cards. By performing distributed NetFlow Switching on each VIP while using the main route/switch processor, Cisco 7513 system performance can scale to more than 1 million packets per second.
"The ability to provide such a significant new technology as NetFlow Switching on existing Cisco routers is a great example of the investment protection we're committed to provide for our customers," Palmer says. "Cisco users can rely on the extensibility of their existing routed infrastructures to deliver the performance and services needed to meet tomorrow's network requirements."
With the introduction of NetFlow Switching services, Cisco also will roll out new packet-oriented interfaces that support Synchronous Optical Network (SONET) speeds. Packet-oriented SONET OC-3 (155 Mbps) interfaces will be available for the Cisco 7500 series in the third quarter of 1996. These interfaces will be extended on future high-end Cisco routing and switching platforms offering multigigabit-per-second system performance in 1997. Such platforms will support packet-oriented OC-12 (622 Mbps) and OC-48 (2.5 Gbps) interfaces.
___________________________________________________________________________________________________________
A new generation of Versatile Interface Processor (VIP) cards doubles the performance and port density of Cisco 7000 and 7500 series routers, enabling large organizations and service providers to handle network growth. The new VIPs also greatly enhance support for key network-layer services such as security, multimedia, and traffic management.
On the Cisco 7500 series with distributed switching and dual Route Switch Processors (RSPs), the VIPs can scale performance from 500,000 to more than 1 million packets per second (pps). With this speed, customers can deliver enhanced, network-layer security services such as encryption and enhanced multimedia applications through faster, more efficient queuing.
Doubling the port density on the VIP greatly reduces total system costs for customers that need to provide large numbers of Ethernet and serial WAN connections. A modular architecture enables a single VIP to support multiple interface types. Each VIP can support a mix of two port adapter modules to meet customer requirements. Seven new port adapter modules support various Ethernet, Fast Ethernet, serial, and Token Ring densities.
Through Cisco's Investment Protection Program, users with Cisco 7000 and 7500 series routers now can return an existing interface processor and receive credit toward the purchase of the new VIP card. Customers who bought first-generation VIP cards will also receive a credit for each motherboard returned. Port adapters from earlier-generation VIPs are reusable in the new VIPs.
The Investment Protection Program also allows customers with Cisco 7010s and 7000s to take advantage of capabilities previously supported only on the Cisco 7500 series. The program enables users to upgrade from the standalone route processors and switch processors found in the Cisco 7010 and 7000 to the newer Route Switch Processor for the Cisco 7500 series.
The new VIP card and port adapter modules will be available in the third quarter of 1996.
___________________________________________________________________________________________________________
The new Cisco 7200 series routers present a flexible, cost-effective routing solution that meets the performance and port-density needs of enterprises and service providers. "With the price/performance and density range of the Cisco 7200, users can enjoy the benefits inherent in the Network layer---security, stability, and control---at more sites in their networks, " says Richard Palmer, Director of Marketing in Cisco's Core Business Unit.
The modular design of the Cisco 7200 routers gives network designers the flexibility to support growing numbers of end users with diverse performance requirements. With the Cisco 7200, Cisco provides scalable solutions between the Cisco 4700 and the Cisco 7010. The Cisco 7200 series uses the same port adapters for the Versatile Interface Processor (VIP) card as the Cisco 7000 and Cisco 7500 products, thus helping to preserve customers' investments and minimize spare-parts inventory. In addition, now Cisco offers existing customers with AGS+ models an upgrade path to move to the Cisco 7200 platform.
Also new with the Cisco 7200 series are management tools based on Hypertext Markup Language (HTML), the standard for creating documents on the World Wide Web. HTML support---part of the Cisco Internetwork Operating System (Cisco IOSTM) software, allows network administrators to manage the Cisco 7200 routers with the simplicity and ease of a Web interface from a remote personal computer.
The Cisco 7200 features a 150-MHz network processing engine supporting 145,000 packets per second (pps). The switching performance of the Cisco 7200 routers also benefits from Cisco's NetFlow Switching technology, which provides high-performance, network-layer switching and enhanced network services for security, quality of service (QOS), and traffic management.
The Cisco 7200 series will be available in four-slot and six-slot chassis, with scalable densities of up to 48 Ethernet ports, 24 serial ports, or 24 Token Ring ports. The six-slot Cisco 7200 products and the 150-MHz network processing engine are available now. The four-slot chassis will be available in the third quarter of 1996.
___________________________________________________________________________________________________________
The latest additions to the Cisco 2500 series routers, the Cisco 2524 and 2525, represent Cisco's first single-product routing solutions to completely integrate telecommunications and routing functionality. The Cisco 2524 and 2525 eliminate the need for separate internetworking components by combining a data service unit/channel service unit (DSU/CSU) and/or a Basic Rate Interface (BRI) for Integrated Services Digital Network (ISDN) with a remote office router.
The DSU/CSU modules were developed with WAN access providers Adtran, a major player in 56/64-kbps DSU/CSU technology, and Digital Link Corp., a leading supplier of fractional and full T1 DSU/CSU technology.
The modular Cisco 2524 and 2525 routers are designed for corporate users in North and South America who want to deploy a single, remotely managed intelligent device to their remote offices for both WAN and telecommunications line connectivity. These routers are also ideal solutions for Internet service providers (ISPs) who offer and manage turnkey Internet connections.
The routers feature all of the functionality of the Cisco Internetwork Operating System (Cisco IOSTM) software, including several bandwidth optimization features such as 4:1 data compression over leased lines. These access routers also offer an integrated Network Termination 1 (NT1) device to provide a complete solution for ISDN users in North America.
The new Cisco 2524 and 2525 routers are tailored for corporate users who want a single, remotely managed intelligent device to provide WAN and remote access connections for their remote offices. These routers are also ideal solutions for Internet service providers.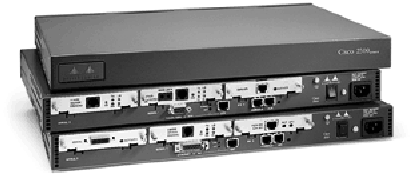 Cisco's integrated DSU/CSU and ISDN modules make each of these new routers a compact, self-contained unit without the usual clutter of external devices and cables. Plus, the intelligent DSU/CSU and ISDN modules can be remotely managed from a central location using the Simple Network Management Protocol (SNMP)---supported on all Cisco products---to speed problem resolution and avoid onsite visits. These benefits make the Cisco 2524 and 2525 routers ideal solutions for unattended remote sites or sites without an information systems or telecommunications professional.
Fully scalable for any WAN technology, such as ISDN, Digital Data Services (DDS), Switched 56, Frame Relay packet switching, or fractional/full T1 leased line services, the Cisco 2524 and 2525 routers accept two synchronous serial plug-in modules and one ISDN module. The two synchronous WAN interface slots can accommodate any of four DSU/CSU modules, making the Cisco 2524 and 2525 routers a perfect fit for environments that need to reserve one port for Synchronous Data Link Control (SDLC) or Bisync protocols and the second port for Frame Relay or leased-line links to headquarters. The routers also feature optional plug-in ISDN modules for ISDN BRI with or without NT1. All of the modules for the Cisco 2524 and 2525 are field-upgradable, so routers can be easily tailored to adapt to users' needs. The Cisco 2524 includes an Ethernet interface, while the Cisco 2525 includes a Token Ring interface.
The Cisco 2524 and 2525 routers are available immediately in the United States, Canada, and South America. These models will not be offered elsewhere, because DSU/CSU modules outside these areas are regulated by the telephone companies.
____________________________________________________________________________________________________________
Cisco Systems and Hewlett-Packard (HP) have strengthened their existing working relationship by offering enhanced internetworking compatibility and interoperability to their customers. Since early 1994, HP has maintained Cisco products worldwide and acts as a Cisco value-added reseller. Under a new agreement announced in February, Cisco and HP will incorporate a technology exchange and renew a joint sales agreement.
HP plans to develop an integrated router module that will be embedded in its AdvanceStack hubs. The module will provide a fully interoperable, integrated router/hub solution that is ideal for branch office applications. The unifying elements of this technology commitment are the Cisco Internetwork Operating System (Cisco IOSTM) software and HP's high-speed transport technology of 100VG-AnyLAN interfaces, which Cisco will support. The new interfaces will enable HP 100VG workgroups to easily connect to Cisco backbones, giving customers superior performance and advanced functionality for multimedia and other high-speed applications. Cisco, in turn, will develop a 100VG interface for the Cisco 7500 series router in the form of a port adapter module, which Cisco plans to introduce within the next six months.
Cisco and HP will expand their marketing programs to include joint sales calls, technical support, network design assistance, and product demonstrations. Cisco will promote HP's stackable, shared-media hubs as fully tested, complementary products. As its products of choice, HP will advocate Cisco standalone routers along with its own embedded router based on Cisco technology and Cisco IOS software.
____________________________________________________________________________________________________________
Olicom and Cisco Systems recently announced a long-term agreement to jointly develop Token Ring technology for router and switch products. Cisco will provide the switching and routing technology; Olicom will provide Token Ring Media Access Control (MAC) technology, custom application-specific integrated circuit (ASIC) designs, and core Token Ring technology, including its high-performance PowerMACH software. A pioneer in the field of Token Ring switching, Olicom (Copenhagen, Denmark) has more than 10 years experience in internetworking technology.
Cisco plans to use the collaborative technology to produce Token Ring switching products for the desktop. New products ensuing from the alliance will complement the Token Ring capabilities of existing Cisco products and enhance Cisco's partnerships.
____________________________________________________________________________________________________________
Cisco Systems, continuing its diverse efforts to expand the reach of high-speed communications, is collaborating with several companies to establish a high-capacity cable infrastructure.
Cisco has agreed to purchase an equity stake in Terayon Corporation (Santa Clara, California), which designs voice and data transmission products for cable-based digital communications. Terayon's high-speed, digital data communications technology will be integrated with Cisco's internetworking technology to develop an end-to-end, standards-based, data-over-cable system. Cisco's investment is intended to accelerate the delivery of advanced technology to businesses and individuals using cable television systems for Internet access, electronic commerce, or education. Fruits of the joint technology development agreement could bring faster access to data and multimedia programming for cable subscribers worldwide.
Toshiba Corporation and Cisco Systems are jointly conducting a series of technical trials in the San Diego, California, area using a high-speed system for data transfers over cable networks. The trial results will help Cisco expand its offerings for the small office and consumer markets. Toshiba's trial system comprises all hardware and software required to operate high-speed cable data modems installed at user premises.
____________________________________________________________________________________________________________
Under a joint technology agreement announced in February, StarBurst Communications (Concord, Massachusetts) and Cisco Systems will collaborate on development efforts to extend the scalability of StarBurst's Multicast File Transfer Protocol (MFTP). Unlike broadcasting that delivers information from a single source to everyone, multicasting delivers from a single source to many---but only to a preselected many.
"Working with Cisco," says Harland LaVigne, President of StarBurst, "we can ensure that MFTP will work in a very large network without degrading performance." Within a year the companies expect to open the protocol technology to the public domain and jointly promote its use as a standard.
____________________________________________________________________________________________________________
Cisco Systems is collaborating with 11 Japanese companies, a Japanese university, and one US firm to develop an infrastructure that delivers high-quality multimedia applications across WANs. Deploying experimental and varied multimedia applications over the Trial Net, a high-speed communications network, the companies intend to encourage the use of open standards established for network and application software by the Internet Engineering Task Force (IETF) and the International Telecommunication Union Telecommunication Standardization Sector (ITU-T). The consortium will report back to these standards bodies on new developments expected to further enable the efficient use of multimedia applications. Using the Transmission Control Protocol/Internet Protocol (TCP/IP) protocol suite for the Trial Net ensures that the results of these efforts will have worldwide value.
The Japanese participants are CSK, Fujitsu, Hitachi, Keio University, Mitsubishi Electric, NEC, Net One Systems, NTT Data Communication Systems, Oki Electric Industry, SEGA Enterprises, Softbank, and Toshiba. By collaborating to forge uniform, practical, standards-based solutions, the consortium intends to make high-quality multimedia applications available for business and home use.
The other US participant is DataBeam Corporation (Lexington, Kentucky), whose collection of collaborative computing software toolkits is based on the T.120 ITU-T standard. Cisco is enhancing the existing multimedia services of its products by becoming the first data networking vendor to license and integrate the T.120 standard.
Under the terms of an agreement announced in February, Cisco has licensed DataBeam's Collaborative Computing Toolkit Services, a suite of software development tools implementing the T.120 data conferencing standard. Cisco will integrate DataBeam's data conferencing standard into both the Cisco Internetwork Operating System (Cisco IOSTM) software and the CiscoRemoteTM high-performance access utilities. This move will enable Cisco users to take advantage of multipoint applications---those that exchange data between multiple locations and networks---such as long-distance collaborative applications and document conferencing. DataBeam has licensed the T.120 standard software to Cisco and to more than 50 telecommunications and computer firms.
____________________________________________________________________________________________________________
Offered free of charge, Cisco seminars provide IS professionals, data communications managers, and network managers with up-to-date information covering a range of topics from the basics of internetworking to emerging LAN and WAN technologies. Networking experts help attendees make complex decisions about designing and implementing new networks, growing and managing existing networks, or expanding into new technologies.
Managing Scalable Switched Internetworks S140147
Cisco, Frontier Software, and NETSYS join forces in demonstrating how to manage switched internetworks. John Morency, an industry expert, will explain the challenges, solutions, and options for virtual LAN (VLAN) configuration and policy administration. RMON agent technology and network configuration, monitoring, and control will also be discussed.
NetFlow Switching---the Next Generation of Internetworking S142147
Network managers or administrators experiencing significant network growth and serious bandwidth constraints will learn how to extend their existing infrastructures by using Cisco's new network paradigm, NetFlow Switching. The seminar will explain how to perform valuable network services on a connection-oriented, per-user, per-application basis.
Moving to Fast Ethernet with Cisco and Intel S134147
Cisco and Intel, the leaders in Fast Ethernet, demonstrate how 100-Mbps technology allows you to leverage your current network investment to dramatically increase your network's capabilities. Systems Engineers from Cisco and Intel, along with network consultants from Decisys, Inc., use a special interactive case study to explain the latest trends, applications, and how Fast Ethernet compares to---and complements---Asynchronous Transfer Mode (ATM) and Fiber Distributed Data Interface (FDDI).
Internetworking in IBM Environments S141147
Focusing on internetworking in IBM SNA environments, Cisco experts will explain how to reduce the cost of network ownership by integrating separate SNA and multiprotocol networks. Discover how to scale LAN-based networks, integrate SDLC into internetworks, and protect mission-critical SNA sessions.
Data Center Internetworking S138147
Learn how to integrate a data center and an internetwork. Cisco's Channel Interface Processor (CIP) card merges the power of the mainframe with the network, a solution that cuts costs, meets multiprotocol requirements, and delivers high-performance network connections to the mainframe. This seminar presents Cisco solutions that support current system requirements while making the mainframe the most efficient server in a client/server environment.
The Applied Science of Enterprise Network Management S120147
Because a network is only as manageable as its hardware and software components, this seminar highlights the features of the Cisco Internetwork Operating System (Cisco IOSTM) software that facilitate network management solutions: built-in Simple Network Management Protocol (SNMP) agents, Dynamic Host Configuration Protocol (DHCP) proxy, and Hot Standby Routing Protocol (HSRP). Cisco technical representatives demonstrate how to save bandwidth, control costs, minimize downtime, and optimize the performance of enterprise networks.
Enterprise Switched Internetworking: Managing the Change of Speed S133147
Effective implementation of switched internetworking technology maximizes the performance of existing networks. By covering a variety of technologies, such as 100-Mbps LANs, "smart" switches, ATM, Fast Ethernet, and VLANs, this seminar helps IS professionals make informed decisions in the design, implementation, and management of switched internetworks.
Deploying ATM Networks with LAN Emulation S145147
Learn how to implement a LAN Emulation network with LAN switches and ATM routers interconnected by next-generation ATM switches. The seminar will address the ways to deploy ATM and LAN Emulation in your production network.
Access Routing: Access by Cisco[sm] S108147
As networks continue to grow both in size and in number of remote connections, access and ease of use become critical. Cisco experts demonstrate how remote user sites can access resources that were once the exclusive realm of large, multiprotocol core networks.
Introduction to Internetworking Solutions S115147
Using a comprehensive case study, this seminar illustrates how to construct a successful, cost-effective enterprise internetwork from basic building blocks that combine seamlessly with the Cisco IOS software.
Dates, locations, and registration
Complete information is available on line at the World Wide Web URL http://www.cisco.com, or in the USA call 800 829-NETS (6387) and refer to the priority code next to each seminar title. For information on seminars offered in Canada, call 800 668-0856. For information on seminars offered outside the USA and Canada, call the Cisco regional sales office nearest you as listed on the back cover of this magazine or contact your local authorized Cisco partner/reseller.
____________________________________________________________________________________________________________
With its announced agreement to acquire StrataCom, Inc., Cisco Systems is poised to develop the infrastructure for a new era in networking. StrataCom is a leading supplier of Asynchronous Transfer Mode (ATM) and Frame Relay high-speed WAN switching equipment. Acquiring StrataCom extends Cisco's strategy to the WAN backbone, enabling the company to integrate high-performance ATM and LAN switching with the intelligence and control of routing. The merger will make Cisco the first vendor to provide end-to-end, "any-to-any" connectivity across high-end public, private, or hybrid networks for both enterprise customers and service providers.
By integrating StrataCom's networking technologies, Cisco will be able to deliver integrated, scalable multiservice network solutions to public carriers, Internet and intranet environments, and enterprises. The potential acquisition teams Cisco, the global expert in local-area internetworking, with the top supplier of wide-area multiservice platforms. Customers can expect to experience smoother integration across both LAN and WAN infrastructures, and Cisco's end-to-end solutions will better meet their increasing demands for bandwidth.
In the interim, as they await the completion of the acquisition, the two companies are working together under the terms of licensing and OEM agreements that give Cisco immediate rights to distribute and resell StrataCom's entire product line worldwide and grant StrataCom immediate license to integrate the Cisco Internetwork Operating System (Cisco IOSTM) software into its line of WAN switching products.
StrataCom, Inc., based in San Jose, California, delivers FastPacket networking systems for ATM applications in private WANs and public carrier service offerings. StrataCom products integrate and transport a variety of information such as voice, video, data, image, and multimedia in narrowband to broadband applications for ATM networks. Cisco expects to complete the acquisition by the end of June 1996, with StrataCom's 1200 employees forming Cisco's wide-area switching business unit.
StrataCom's three major switching product lines---the BPX/AXIS, the IGX, and the IPX---complement Cisco's line of LightStream® ATM switches.
· The LightStream 2020 is an enterprise backbone ATM switch that provides WAN connectivity from campus LANs.
· The LightStream 1010, a workgroup and campus backbone switch, interconnects numerous LANs within a campus into a robust ATM backbone.
· The BPX/AXIS is a carrier-class broadband 20-Gbps ATM switch that meets the advanced requirements of service providers.
· The newly introduced IGX 1.2-Gbps ATM switch is targeted at both enterprise and smaller service provider networks.
· The IPX is a cell-switching platform used primarily for provisioning Frame Relay service by enterprise and carrier customers.
____________________________________________________________________________________________________________
With its new Cisco Connection family of services, Cisco is engaging its end users and partners in interactive business relationships by leveraging the power of the Internet and CD-ROM technology. The Cisco Connection family offers an easy gateway to information, technical support, and electronic commerce for registered Cisco users as well as for Cisco's partners and employees worldwide. Key components of the Cisco Connection family are Cisco Connection Online (CCO), which is accessible on the World Wide Web or in a text-only version, and the Cisco Connection CD-ROMs.
Doing business on the Internet can mean more than providing basic company and product information or offering secure credit card transactions. Cisco uses the Internet as a crucial platform for conducting business. CCO allows end users unprecedented interactive access to the company's internal resources. Users drive the mechanisms for verifying product configurations, finding answers to technical questions, and getting customer support---all in real time.
Cisco Connection Online, formerly called Cisco Information Online (CIO), adds innovative features such as Cisco MarketPlace to the corporate Internet site. In the following brief guide to Cisco Connection Online, the underlined entries represent modules accessible from the Cisco Enterprise main menu at the URL http://www.cisco.com.
Cisco MarketPlace breaks new ground for Cisco by enabling users to make purchases on line. The Internet JunctionTM software store, open to everyone, takes orders for Cisco's Internet access solutions. The Gift Shop carries a complete line of business gift items bearing the Cisco logo. Both stores accept credit card orders.

CCO retains CIO's popular Technical Assistance functions, which help resolve three-quarters of users' service and support inquiries on line.

Users can instantly access and download thousands of software titles from the Software Image Library. The library is a valuable resource for information on Cisco software releases, configuration guidelines, early bug notification, and bug-searching utilities.

The Customer Services module includes the recently introduced Commerce Agents for product configuration, pricing, and order status tracking.

In addition to the complete Cisco Product Catalog, the Product Information module carries data sheets, white papers, and product feature comparisons.

Events and Training presents a complete schedule of seminars, training classes, and upcoming Cisco events such as Networkers user symposiums.

Cisco's complete documentation set and a series of technology overviews are available from the Documentation module.

Among the specialized offerings of the Partner Information module are regularly updated listings of Cisco Gold, Silver, and TAC-Certified Partners.

CCO customizes the stores and features displayed depending upon the user's level of authentication. Cisco ensures end-to-end security for all electronic transactions by a combination of encryption, dynamic document generation, and user authentication.
Cisco documentation is also available on the Cisco Connection Documentation CD-ROM, formerly called UniverCD®. Users can request a CD-ROM with the purchase of Cisco enterprise networking products or by contacting their Cisco representatives. The Cisco Connection Training CD-ROM provides interactive training applications. Other offerings are tailored to meet the needs of Cisco's direct and channel sales teams, training partners, and consultants.
Future releases of CD-ROMs for end users will be covered in upcoming issues of Packet.
CCO's Web site is at http://www.cisco.com. To become a registered user, select Register from the opening menu and provide your Cisco service agreement number, partner/reseller number, CiscoProTM registration number, or sponsored account number from a Cisco-authorized partner. Separate online registrations are required for the Commerce Agents and Cisco MarketPlace.
Cisco earned the highest score for "Quality of Online Services" of all hardware or software vendors rated by the readers of Data Communications magazine. In the magazine's 1995 Users' Choice awards, Cisco took top honors in the networking hardware category for "Best Service and Support."
____________________________________________________________________________________________________________
Cisco Systems' Global Solution Services program provides worldwide, direct product support to companies that have operations in more than one country. The Global Solution program, which replaces the Multinational Program, covers two basic areas: support and purchasing. It offers single-point-of-contact service---access with a single phone call to Cisco's Technical Assistance Centers (TACs) located around the world. A central purchasing option allows customers to place product orders centrally at a predetermined price regardless of delivery location.
Customers who prefer an in-country service relationship can select from a worldwide network of Cisco authorized service partners who deliver, install, and support Cisco products. Customers can elect to combine single-point-of-contact and local services.
Technical Assistance Center (TAC) certification puts Cisco Systems' partners in Europe, the Middle East, and South Africa in partnership with Cisco's networking experts to deliver prompt and effective solutions to Cisco customers.
Alcatel
France
NIL Ltd.
Slovenia
Alcatel-Ace
Portugal
Olivetti SMS
Finland
Alcatel Bell
Belgium
PCEE
France
Alcatel Data Networks
UK
RCS
France
Alcatel Datensysteme
Austria
Siemens AG
Germany
Alcatel MDS
Switzerland
Siemens (Schweiz) AG
Switzerland
AMT Group
Russia
TeleDanmark
Denmark
Arche Group Siemens
France
Telemation GmbH
Germany
Ascom TCS
Italy
Telindus
Belgium
BISS Ltd.
UK
UB Networks
Belgium
Chernikeeff Ltd.
UK
UB Networks
UK
Comtech
Belgium
Unisource
Switzerland
Convex Supercomputer
Portugal
Unisys
Belgium
Datrac AG
Switzerland
Unisys
France
Dimension Data
South Africa
Unisys
Germany
Expert & Partner Engineering
Czech Republic
Unisys
Luxembourg
F. Hoffman La Roche
Switzerland
Unisys
Portugal
Getronics Service
The Netherlands
Unisys
Spain
ICL Service AB
Sweden
Unisys
Sweden
Interact Systems
France
Unisys
Switzerland
NCR
Germany
Unisys UK
UK
NCR
UK
Unitronics SA
Spain
Netcom
Israel
Upnet AB
Sweden
____________________________________________________________________________________________________________
Cisco Systems has launched a Channel Interface Processor (CIP) certification program designed to enhance the capabilities of its service providers. CIP 7000 Certified Service Partners have the demonstrated expertise to support customers that use IBM mainframe-based networks deploying Cisco 7000 routers configured with the Cisco CIP card. CIP Certified Partners offer a high level of value-added support on a "7 by 24" basis (7 days a week, 24 hours a day). Partners have Cisco Certified Internetwork Experts (CCIEs) and CIP 7000-certified engineers on staff.
Cisco customers with substantial investments in IBM systems increasingly want to integrate their mainframe-based networks with multiprotocol, client/server-based internetworks. The CIP card enables the high-performance Cisco 7000 router to interface directly with Enterprise System Connection (ESCON) or parallel (bus and tag) channels on IBM mainframes. A mainframe channel-attach card, the CIP card attached to a Cisco 7000 router replaces front-end processors and integrates interconnect controller functions with Cisco's WAN interfaces and routing and bridging capabilities. For more information, see "Cisco Strengthens SNA Mainframe Access with Channel Interface Processor Card."
For Cisco Systems customers deploying Cisco 7000 routers configured with the Channel Interface Processor (CIP) card, a high level of value-added support is offered by CIP 7000 Certified Service Partners. CIP certified partners have on staff CIP 7000-certified engineers and Cisco Certified Internetwork Experts (CCIEs) to meet the specialized support needs of Cisco customers in IBM networking environments.
Alcatel BSG
Belgium
Datacraft NZ
New Zealand
Alcatel Data Networks
UK
Datrac AG
Switzerland
Alcatel Reseaux d'Entreprise
France
Kanematsu Electronics Ltd.
Japan
Alcatel SEL
Germany
NIL Ltd.
Slovenia
Alcatel MDS
Switzerland
Prolan
Brazil
AnyWeb*
Switzerland
Satec
Spain
AT&T
USA
Siemens Network Systems Ltd.
UK
Bell Atlantic Network Integration
USA
SoftNet SA
Argentina
BISS
UK
Tech Force Corporation
USA
Chernikeeff Ltd.
UK
Telemation
Germany
Consorcio Red Uno
Mexico
* Service partner only
____________________________________________________________________________________________________________
Cisco Systems' Gold Certified Partners are constantly challenged to demonstrate their ability to provide rigorously high levels of service and support to customers. In virtually every aspect of Cisco's business, Gold Partners deliver Cisco-quality technical expertise, service, and support.
Gold Partners old and new, striving to fulfill Cisco's stringent requirements, report a high level of customer satisfaction. "Gold Partner Certification," says Steve Brady, head of the Integrated Cabling and Data Services Division of BT (formerly British Telecom), "powerfully demonstrates to our customers our commitment to internetworking and to Cisco products." BT customers agree. Larry Callaghan, who heads Network Operations at Bass IT (UK) says, "BT's Gold Partner status guarantees access to skilled resources, quality systems, and timely information."
Cisco Gold Partner BT maintains state-of-the-art equipment to troubleshoot customers' networking problems. Peter Tipling, BT Service Development Manager (left) and Nigel Roy, CCIE, are shown in BT's Captive Equipment Lab (Leeds, UK).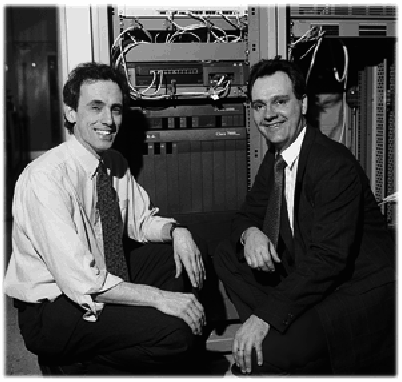 Gold Partners provide myriad overall services, including large network design and implementation, presale and postsale support expertise, and access to high-level Cisco personnel. To meet extensive service requirements, Gold Partners must have on staff a minimum of four Cisco Certified Internetwork Experts (CCIEs). ParkWorld, a member of the Rank Organisation (London, UK), turned to long-time European Gold Partner, Unisys Network Enable to resolve a complex project. "We rely on the skills and expertise that Unisys engineers offer in conjunction with higher-level support from Cisco to provide a coherent network architecture," says Vic Wells, ParkWorld's IT Operations Manager.
Partners modernize diagnostic laboratories to keep up with new technology. A recent addition to Cisco's Gold Certification roster is Enterprise Networking Systems (ENS) of South San Francisco, California. "We definitely have noticed a faster turnaround for support since ENS became Gold certified," says Iain Kelly, Manager of ITS Applications Development for Zenger Miller, a Times Mirror company. "ENS simulated our network problems, using their lab's state-of-the-art equipment and, as a result, was able to resolve them quickly and efficiently."
For customers, dealing with a Cisco Gold Certified Partner is like dealing directly with Cisco. Gold Partners strive to provide the service and support that Cisco itself would provide.
High-quality service and support are the hallmarks of Cisco Systems' certified channel partners. Gold and Silver Certified Partners have achieved Cisco-defined levels of sales and support excellence. Certification on a country-by-country basis ensures that partners have resources in place to sell and support multinode networks within the region for which they have achieved certification.
ABS
Austria
NCR
UK
Alcatel ARE
France
NIL
Slovenia
Alcatel BSG
Belgium
Prolan
Brazil
Alcatel Business Systems
UK
Realtech Systems
USA
Alcatel Data Networks
UK
RCS
France
Alcatel MDS
Switzerland
Siemens AG
Germany
Alcatel SEL
Germany
Siemens (Schweiz) AG
Switzerland
Ameritech
USA
Siemens Network Systems
UK
Bell Atlantic Network Integration
USA
Telemation GmbH
Germany
Bell Canada
Canada
Telindus
Belgium
BT
UK
Unisource
Switzerland
Chernikeeff Ltd.
UK
UB Networks
UK
Comtech
Belgium
UB Networks
USA
Consorcio Red Uno
Mexico
Unisys
Belgium
Cray Communications
New Zealand
Unisys
France
Datrac AG
Switzerland
Unisys
Germany
Dimension Data
South Africa
Unisys
Portugal
Enterprise Networking Systems
USA
Unisys
Switzerland
Geveke
The Netherlands
Unisys
UK
Hewlett-Packard
Germany
Unitronics
Spain
ITS
UK
Upnet AB
Sweden
NCR
Germany
!nterprise Networking Services from US West
USA
NCR
Switzerland
Silver Certified
Company
Location
Company
Location
Alcatel Comunicaçao de empresa, SA
Portugal
Interact Systems
France
Alcatel Distribusjon
Norway
ITS
France
Alcatel Ibertel
Spain
Jannon Group, Inc.
USA
AllTech Data Systems
USA
NetCom
Israel
AMT
Russia
Olivetti SMS
Finland
Arche Group Siemens
France
Open Systems
Austria
Ascom TCS
Italy
PCEE
France
BISS Ltd
UK
SAG
Thailand
Convex
Portugal
Tandem
Chile
Cygnus
Venezuela
TechForce
USA
Datacraft
Hong Kong
TeleDenmark Erhverv
Denmark
Datacraft
New Zealand
TRT/Experdata
France
Datacraft
Singapore
Unisys
Spain
Expert & Partner Engineering
Czech Republic
Unisys
Sweden
Hong Kong Telecom Ltd. CSL
Hong Kong
____________________________________________________________________________________________________________
The International Schools CyberFair 1996 is a vibrant example of integrating Internet access into educational curricula. Sponsored by Cisco Systems and MCI, and managed by the Global SchoolNet Foundation, the CyberFair uses the World Wide Web to connect schoolchildren with their peers around the world. Participating student teams from over 300 schools in 30 countries are publishing Web pages containing information the students have researched about their local communities. Projects merge traditional learning techniques with Internet-style learning.
Not everything happens on line. Projects require that teams of schoolchildren go out into their local communities to develop materials that showcase the unique aspects of their home regions. The children are charged with enlisting the technical expertise of businesses and other organizations. Each school's completed project becomes part of an online curriculum. The CyberFair, open through June, also serves as a forum for students to share and evaluate projects with teams from other schools around the globe. To foster communication among diverse cultures, the CyberFair offers free translation from French, German, Italian, or Spanish into English, and from English into those four languages.
"In sponsoring the International Schools CyberFair program, Cisco hopes to help schools build partnerships with their local communities at the same time that they expand their participation in an international collaboration of students, teachers, and volunteers from high-tech industries," says Tracy LaQuey Parker, Cisco Education Market Development Manager. "To us, the theme `Share and Unite' means that teams of schoolchildren are able to share what they learn as they unite with their own communities and other children from around the world---using the power of the Internet's resources for global communication."
CyberFair projects were judged by a panel of industry experts during April. Prizes for the top entries were scheduled to be announced in mid-May at an online awards ceremony. To view the winning entries, select International CyberFair 96 from the Global SchoolNet home page at http://www.gsn.org. (Available through June 1996.)
____________________________________________________________________________________________________________
Volunteers from Cisco Systems worked with parents and teachers at Costano School in East Palo Alto, California, USA during a beta test of NetDay96.
In a milestone effort to begin to build the infrastructure needed to bring universal Internet access to US schools, March 9 was declared "NetDay96" for California schools. Teams of Cisco Systems employees joined over 17,000 other volunteers, including US President Bill Clinton and Vice President Al Gore, to wire participating schools across the state.
Organizers hope that NetDay96 will be a model program for other states in the USA as well as in other countries around the globe. The program is headquartered in cyberspace--- volunteers coordinate all activities from the NetDay site on the World Wide Web, using no physical offices and no operating budget.
Targeting the state's public and private kindergarten through twelfth grade schools, the immediate, practical goal of NetDay96 was to connect five classrooms and one library or lab to a central point at each school site. NetDay paves the way for other initiatives to tackle the remaining hurdles---linking each site to the outside world and installing more computers in classrooms. For California schools, NetDay is a first step toward realizing President Clinton's goal of connecting all US schools to the Internet by the year 2000. As Clinton and Gore worked as Category 5 wire installers, Clinton commended NetDay as "a high-tech barn-raising."
The larger goal of projects like NetDay is to enable students and teachers to collaborate interactively with their peers in other schools and other regions of the world. Toward that end, Web pages created during the event are on display through the end of June at http://www.netday96.com.
Besides supporting regular NetDay96 events, Cisco sponsored ten sites in school districts surrounding the company's San Jose, California headquarters. The targeted schools were participants in SmartSchools NetDay, held concurrently with the statewide event. The SmartSchools initiative was organized by Smart Valley, Inc., a consortium of Silicon Valley high-technology firms and educators, and includes follow-up programs such as teacher training and ongoing network maintenance.
____________________________________________________________________________________________________________
June 25--27
Networks '96, Birmingham, Alabama, USA
June 25--30
INET '96, Montreal, Quebec, Canada
June 27--28
Networkers `96 Asia, Singapore
July 1--2
China User Conference, Beijing, China
July 10--12
Comdex Canada, Toronto, Ontario, Canada
July 15--19
Networld+Interop, Tokyo, Japan
September 16--20
Networld+Interop, Atlanta, Georgia, USA
September 25--27
Comdex Asia, Singapore
September 25--27
Networkers '96 Europe, The Hague, Netherlands
___________________________________________________________________________________________________________
Product
Award
Awarded By
Catalyst 3000 Workgroup Switch
Hot Product Internetworking category
Data Communications magazine January 1996
Catalyst 5000 Workgroup Switch
Testers Choice Top Performer awards
Data Communications magazineFebruary 1996
Cisco 7500 Series Routers
Standards Achievement Best Multiprotocol Router
Internetwork magazine November 1995
Cisco 7500 Series Routers
Product of the Year Enterprise Router
LAN magazine April 1996
Cisco 7500 Series Routers
Product of the YearNetwork Hardware
Datamation magazine April 1996
LightStream 2020 Multiservice ATM Switch
Well-Connected Best Enterprise ATM Switch
Network Computing magazine May 1996
Cisco 7500 Series Routers
Well-Connected Best Enterprise Router
Network Computing magazineApril 1996
___________________________________________________________________________________________________________
Cisco Systems has over 125 sales offices worldwide. To contact your local account representative, call Cisco's corporate headquarters (California, USA) at 408 526-4000 or in North America call 800 553-NETS (6387).
Cisco Systems, Inc.
170 West Tasman Drive
San Jose, California 95134-1706
USA
World Wide Web URL: http://www.cisco.com
Tel: 408 526-4000 800 553-NETS (6387)
Fax: 408 526-4100


Central Operations
Cleveland, Ohio
Tel: 216 520-1720
Fax: 216 328-2102


Northern Operations
Bloomington, Minnesota
Tel: 612 851-8300
Fax: 612 851-8311


Eastern Operations
Berwyn, Pennsylvania
Tel: 610 695-6000
Fax: 610 695-6006


Service Provider Operations
(Telecommunications)
San Ramon, California
Tel: 510 855-4800
Fax: 510 855-4896


Federal Operations
Reston, Virginia
Tel: 703 715-4000
Fax: 703 715-4004


Southwestern Operations
Dallas, Texas
Tel: 214 774-3300
Fax: 214 774-3344


Northeastern Operations
New York, New York
Tel: 212 330-8500
Fax: 212 330-8505


Western Operations
San Mateo, California
Tel: 415 377-5600
Fax: 415 377-5699


European Headquarters
Cisco Systems Europe, s.a.r.l.
Parc Evolic-Batiment L2
16 avenue du Quebec
BP 706 Villebon
91961 Courtaboeuf Cedex, France
Tel: 33 1 6918 61 00
Fax: 33 1 6928 83 26


Austria, Cisco Systems Austria GmbH
Vienna, Austria
Tel: 43 1 7007 6256
Fax: 43 1 7007 6027


Norway, Cisco Systems
Oslo, Norway
Tel: 47 22 83 06 31
Fax: 47 22 83 22 12


Belgium, Cisco Systems Bruxelles
Brussels, Belgium
Tel: 32 2 778 42 00
Fax: 32 2 778 43 00


Portugal, Cisco Systems Portugal
Lisbon, Portugal
Tel: 351 1 340 45 31
Fax: 351 1 340 45 75
Denmark, Cisco Systems
Copenhagen, Denmark
Tel: 45 33 37 71 57
Fax: 45 33 37 71 53


South Africa, Cisco Systems S. Africa
Rivonia, South Africa
Tel: 27 11 807 4444
Fax: 27 11 807 4447


Finland, Cisco Systems
Helsinki, Finland
Tel: 358 1594 3090
Fax: 358 1594 3093
Spain, Cisco Systems Spain
Madrid, Spain
Tel: 34 1 383 2178
Fax: 34 1 383 8008


Germany, Cisco Systems GmbH
Unterschleissheim, Germany
Tel: 49 89 32 15070
Fax: 49 89 32 150710


Sweden, Cisco Systems AB
Stockholm, Sweden
Tel: 46 8 681 41 60
Fax: 46 8 19 04 24


Ireland, Cisco Systems Ltd.
Dublin, Ireland
Tel: 35 3 1 475 4244
Fax: 35 3 1 475 4778


Switzerland, Cisco Systems Switzerland
Naenikon, Switzerland
Tel: 41 1 905 20 50
Fax: 41 1 941 50 60


Italy, Cisco Systems Italy Srl
Milan, Italy
Tel: 39 2 26 97 31
Fax: 39 2 26 92 9006


United Arab Emirates, Cisco Systems
(Middle East)
Dubai, UAE
Tel: 971 4 318 788
Fax: 971 4 313 681


The Netherlands, Cisco Systems
Gorinchem, The Netherlands
Tel: 31 183 622 988
Fax: 31 183 622 404


United Kingdom, Cisco Systems Ltd.
Feltham, United Kingdom
Tel: 44 181 818 1400
Fax: 44 181 893 2824


Intercontinental Headquarters
Cisco Systems, Inc.
170 West Tasman Drive
San Jose, California 95134-1706
USA
Tel: 408 526-7660
Fax: 408 526-4646


Japanese Headquarters
Nihon Cisco Systems K.K.
Seito Kaikan 4F
5, Sanbancho, Chiyoda-ku
Tokyo 102, Japan
Tel: 81 3 5211 2800
Fax: 81 3 5211 2810


Argentina, Cisco Systems Argentina
Buenos Aires, Argentina
Tel: 54 1 811 7526
Fax: 54 1 811 7495


Indonesia, Cisco Systems, Indonesia
Jakarta, Indonesia
Tel: 62 21 523 9132
Fax: 62 21 523 9259


Australia, Cisco Systems Australia Pty. Ltd.
North Sydney, Australia
Tel: 61 2 9935 4100
Fax: 61 2 9957 4077


Korea, Cisco Systems Korea
Seoul, Korea
Tel: 82 2 3453 0850
Fax: 82 2 3453 0851


Brazil, Cisco Systems Do Brasil
Sao Paulo, Brazil
Tel/Fax: 55 11 822 6095
Tel/Fax: 55 11 822 6396


Malaysia, Cisco Systems (HK) Ltd, Kuala Lumpur Office
Kuala Lumpur, Malaysia
Tel: 60 3 236 5147
Fax: 60 3 236 5146


Canada, Cisco Systems Canada Limited
Toronto, Ontario, Canada
Tel: 416 217-8000
Fax: 416 217-8099


Mexico, Cisco Systems de Mexico, S.A. de C.V.
Mexico City, Mexico
Tel: 52 5 328 7600
Fax: 52 5 328 7699


Central America/Caribbean, Cisco Systems Inc.
Miami, Florida, USA
Tel: 305 228-1200
Fax: 305 222-8456


New Zealand, Cisco Systems New Zealand
Auckland, New Zealand
Tel: 64 9 358 3776
Fax: 64 9 358 4442


Chile, Cisco Systems Chile
Santiago, Chile
Tel: 562-339-7000
Fax: 562-339-7022
Philippines, Cisco Systems Manila Office
Makati City, Philippines
Tel: 632 892 4476
Fax: 632 811 5998
China, PRC, Cisco Systems (HK) Ltd, Beijing Office
Beijing, PRC
Tel: 86 10 501 8888 x821
Fax: 86 10 501 4531


Singapore, Cisco Systems (HK) Ltd,
Singapore Office
Singapore
Tel: 65 320 8398
Fax: 65 320 8307


Colombia, Cisco Systems Colombia
Bogota, Colombia
Tel: 57 1 296 0067
Fax: 57 1 616 3030


Taiwan, ROC Cisco Systems (HK) Ltd,
Taipei Office
Taipei, Taiwan, ROC
Tel: 88 62 577 4352
Fax: 88 62 577 0248


Costa Rica, Cisco Systems, Costa Rica
San Jose, Costa Rica
Tel: 506-296-1885
Fax: 506-296-3607


Thailand, Cisco Systems (HK) Ltd,
Bangkok Office
Bangkok, Thailand
Tel: 662 253 5315
Fax: 66 253 8440


Hong Kong, Cisco Systems (HK) Ltd
Wanchai, Hong Kong
Tel: 852 2583 9110
Fax: 852 2824 9528


Venezuela, Cisco Venezuela
Caracas, Venezuela
Tel/Fax: 58 2 963 6140




India, Cisco Systems (HK) Ltd,
New Delhi Liaison Office
New Delhi, India
Tel: 91 11 688 1234 x119
Fax: 91 11 611 7688


___________________________________________________________________________________________________________
PacketTM magazine is published quarterly and distributed free of charge to users of Cisco Systems products.
Direct address corrections and other correspondence to packet@cisco.com, or to Packet, in care of:
Cisco Systems, Inc.
170 West Tasman Drive
San Jose, California, 95134--1706
USA Phone: 408 526-4000
World Wide Web URL: http://www.cisco.com
Editor-in-Chief: Joanna Holmes
Assistant Editors: Florence Janjigian, Patrice Snell Steiner
Design and Production: Donna Helliwell
Project Coordinator: Carol Rolin
Cisco Systems Corporate Communications
Special thanks to the following contributors: David Baum, Andrea Cheek, Barbara Dallenbach, Anura Gurugé, Anne McLeod Haynes, Janice King (MarkeTech), and the Cisco Graphics Group.
Catalyst, CiscoFusion, CiscoRemote, Cisco IOS, the Cisco IOS logo, CiscoPro, Cisco Systems, CiscoView, CiscoWorks, Internet Junction, Packet, SwitchProbe, The Cell, TrafficDirector, and VlanDirector are trademarks; Access by Cisco is a service mark; and Cisco, the Cisco logo, FastHub, LightStream, and UniverCD are registered trademarks of Cisco Systems, Inc. All other products or services mentioned in this document are the trademarks, service marks, registered trademarks, or registered service marks of their respective owners.
Packet, copyright ©1996 by Cisco Systems, Inc. All rights reserved. Printed in the USA.
No part of this publication may be reproduced in any form, or by any means, without prior written permission from Cisco Systems, Inc.
Copyright 1988-1996 © Cisco Systems Inc.