Table of Contents
ATM-focused supplement to Packet Magazine
---
Volume 1 Number 3, Fourth Quarter 1995
Companies are looking to Asynchronous Transfer Mode (ATM) technologies to deliver enhanced capabilities such as scalable bandwidth, guaranteed quality of service (QoS), and virtual network management to their networks. ATM promises significant increases in bandwidth, lower costs, and the ability to transmit data, voice, and video simultaneously. What's the catch? In a word, standards. Integrating ATM across the enterprise is a tall order. Customers want assurance that they won't be constrained by the offerings of a single vendor or that their equipment won't become obsolete in the wake of emerging or changing standards.
Until recently, few standards governed how one vendor's ATM switch could deliver consistent services or establish a connection with another vendor's switch. That's changing with the introduction of Cisco Systems' LightStream 1010, a new, high-capacity ATM switch designed for workgroup and campus applications.
Cisco's LightStream 1010, a next-generation campus and workgroup ATM switch, is the first to support key ATM Forum standards.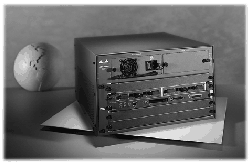 The LightStream 1010 is a 5-Gbps, 32-port ATM switch. It is the first in a new family of switches that will eventually span the range from stackable desktop switches to highly redundant campus and 10-gigabits per second (Gbps) switches. The LightStream 1010 supports a wide range of LAN and WAN port types, including SONET/SDH at 155 and 622 megabits per second (Mbps), DS3 at 45 Mbps, E3 at 34 Mbps, and, in the future, 25-Mbps ATM. This new switch is the first to support important standards recently ratified by the ATM Forum. Among these standards are:
Private Network-to-Network Interface (PNNI) Phase 1, a routing and topology information protocol that allows a network of ATM switches -- even from multiple vendors -- to find the best path for virtual connections and to recover from any failure almost instantly

Available Bit Rate (ABR), a "best-effort" class of service tailored for data communications. With ABR, the ATM network uses rate-based congestion avoidance to optimize throughput and minimize cell loss

The ATM Forum was founded in 1991 by Cisco Systems and three other companies to promote ATM interoperability. Today, the ATM Forum includes more than 700 members from the networking and computer industries, along with pioneering customers and telecommunications service providers.
Since its inception, the ATM Forum has focused on developing a key set of specifications to enable the seamless deployment of ATM-based switched internetworks. Members have reached broad consensus on issues affecting the entire networking industry. The ATM Forum's recent ratification of key software standards and specifications, such as PNNI and ABR, is giving customers the confidence to move ATM out of the testbed and into production networks.
ATM networks consist of a set of ATM switches interconnected by point-to-point ATM links or interfaces. ATM's fixed cell sizes can handle voice, data, and video. To help these switches work together, PNNI defines an advanced set of ATM signaling and routing mechanisms that automatically and dynamically distribute routing information. It enables any switch to determine a path to any other switch. PNNI is based on concepts drawn from existing packet routing protocols, yet it supports capabilities that exceed existing routing protocols in two key areas: QoS-based routing and scalability.
PNNI protocols support the setup of ATM connections in which any aspect of the intended traffic flow and desired QoS can be specified and used as a basis of call routing. This allows ATM switches to exchange not only reachability information between themselves, but QoS metrics such as bandwidth, cell delays, burstiness, latency, and jitter.
PNNI protocols have been designed to scale across all sizes of ATM networks, from small campus networks to global internetworks. Through a hierarchy of routing domains, PNNI passes exactly the right amount of information to ensure the scalability, stability, and security of the entire ATM network.
The LightStream 1010 currently supports the PNNI Phase 1 protocol, but also allows for a migration path as the protocol changes and evolves. Today, the PNNI specification allows users to build extensive switched networks with switching products from several vendors. As long as PNNI-compliant devices are used, the switches will interoperate efficiently. For example, you could use one vendor's ATM switch in the workgroup, another vendor's switch for a campus backbone, and yet another vendor's switch as part of an ATM wide-area service. The PNNI standard ensures that each of these switches can connect to the others and exchange reachability information and QoS metrics.
Likewise, PNNI ensures that ATM switches can learn the topology of their networks and establish efficient paths to navigate traffic from one end station to another, sparing network administrators the burden of configuration procedures. It helps switches in the network select routes while meeting appropriate bandwidth and QoS requirements for a given application. Virtual connections between switches will support the ATM QoS parameters required for multimedia and other bandwidth-intensive applications.
ATM networks use service classes to differentiate between specific types of connections. The current set of QoS classes, which the ATM Forum has defined in the latest Traffic Management specification, includes the new Available Bit Rate (ABR) class of service.
ABR is a class of service that lets ATM users access all unused bandwidth to transmit delay-tolerant traffic, such as data from a file transfer or a batch process. When used in conjunction with other ATM service types, such as constant bit rate (CBR) and variable bit rate (VBR), ABR helps maximize efficient use of available bandwidth.
For example, consider an ATM internetwork that hosts a variety of traffic. One portion of the ATM trunk might be devoted to CBR traffic for transmitting voice channels, another portion could be allocated to VBR for compressed video, and the remainder could be allotted to ABR for e-mail and other LAN traffic.
ABR makes use of idle bandwidth that the other service classes don't need. Formerly, applications were forced to send data across the network with no guarantee of when or if that data would arrive at its destination. The ABR class of service, by contrast, includes a rate-based congestion control mechanism to guard against data loss and provide minimum bandwidth guarantees. Like a traffic light at a freeway on-ramp, ATM switches such as the LightStream 1010 use ABR to indicate the presence of congestion, forcing end-systems to reduce the amount of data sent into the network.
Without ABR, transmitting end stations run a greater risk of having cells dropped because of network congestion. ABR uses traffic management techniques to gauge network congestion and avoid cell loss, using the ATM Forum's relative rate-based flow control specification. This gives network users and service providers flexibility for defining services, with the assurance that other ABR-compliant devices will work in tandem.
The ABR specification will likely continue to evolve over time and few current-generation switches will be upgradable to support them. The LightStream 1010, however, not only implements ABR today, but with its unique, field-replaceable feature card, it can be upgraded easily to support evolving standards.
ABR and PNNI support are just two of the many sophisticated capabilities of the LightStream 1010. These capabilities will not only enable users to fully exploit the advanced features promised by ATM, they will do so in a robust device that's ready for production networks immediately. Fully supporting the Cisco Internetwork Operating System (Cisco IOS[tm]) software, the LightStream 1010 also supports the same user interface as that of routers, greatly reducing training and deployment time for existing Cisco users.
Building an ATM-based internetwork requires more than just deploying switches. Often, ATM switches are used in conjunction with routers, LAN switches, and network interface devices to ensure a smooth flow of both ATM and non-ATM traffic.
For example, a campus network that follows the CiscoFusion[tm] model for switched internetworks might include multilayer LAN switches, such as those in Cisco's Catalyst[tm] product line, which connect Ethernet or Token Ring users to the ATM backbone, with Cisco routers providing virtual internetworking capabilities.
Cisco's LightStream1010 ATM switch in a campus ATM network provides guaranteed quality of service, high reliability, and support for multimedia and collaborative computing applications.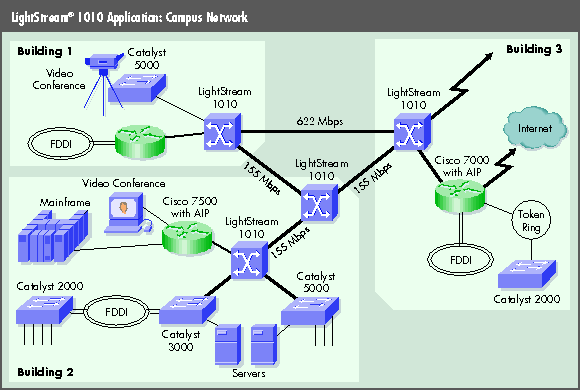 Making these switched internetworks work cohesively requires a software system that serves all of these network devices. Many customers rely on the rich functionality of the Cisco IOS software for this purpose. The Cisco IOS software operates at the heart of the LightStream 1010 and other Cisco ATM switches, as well as on such internetworking devices as standalone and embedded routers, file servers, multiservice WAN access switches, and ATM-capable Private Branch Exchanges (PBXs).
The LightStream 1010 is an integral piece of the CiscoFusion architecture which "fuses" the scalability, stability, and security advantages of today's routing technologies with the performance benefits of ATM. It also includes LAN switching and the management benefits of virtual LANs. With the CiscoFusion model and the LightStream family of switches, ATM can become a seamless building, campus, and enterprise backbone.
Early buyers of Cisco's ATM products have expressed support for the company's overall ATM and switching direction. Cisco offers a complete ATM solution for the entire enterprise while adhering to accepted industry standards to ensure that customers will never be locked into a Cisco-only ATM solution.
ATM switches provide exceptional throughput for relatively little cost. They make new applications possible and inspire new ways of thinking about existing applications. But the first-generation switches deployed over the last couple of years are now on the verge of being superseded by a new generation of switches such as the LightStream 1010. These switches incorporate the functionality required to move ATM out of the research labs and into large-scale, enterprise-wide production networks. ATM vendors have the responsibility for easing the transition so that ATM can attain the central importance in switched internetworks that it has always promised to hold. Cisco Systems is leading the way with the LightStream 1010 and other next-generation switches that will follow.
The CiscoWorks[tm] network management applications now provide many tools that are specifically designed to streamline the management requirements of ATM and switched internetworks. For more information on these products, see "CiscoWorks Switched Internetwork Solutions," Packet[tm] magazine (4th Quarter 1995).
___________________________________________________________________________________________________________
Q How does the LightStream[r] 1010 fit with Cisco's other ATM offerings?

A The LightStream 1010 is an integral new part of the CiscoFusion[tm] blueprint for switched internetworks, which encompasses Cisco's range of ATM-capable LAN switches, routers, and adapters and is powered by the Cisco Internetwork Operating System (Cisco IOS[tm]) software for ATM. Supplanting Cisco's current generation campus and workgroup switch, the LightStream 1010 is a well-suited complement to the enterprise-class LightStream 2020 ATM switch.

The Cisco IOS software ensures that these diverse internetworking systems operate as an integrated whole. It provides management services and centralized, fault-tolerant routing intelligence to help customers build reliable, high-capacity ATM networks.
Q How does the Available Bit Rate (ABR) class of service differ from other classes of service, such as Unspecified Bit Rate (UBR)?

A The LightStream 1010 supports a new class of service called Available Bit Rate (ABR). ABR helps guard against data loss by ensuring that dynamic, rate-based feedback mechanisms will keep applications running at optimal throughput. In contrast to Unspecified Bit Rate (UBR), in which applications send data across the network with no indication of when or if that data will arrive at its destination, the ABR class of service uses a congestion control mechanism to guard against data loss and provide maximum bandwidth efficiency.

ABR service is similar to the advanced, prestandard, rate-based congestion control scheme long supported on the LightStream 2020. Given that standards support is less important in the more homogenous enterprise networks that typically deploy the LightStream 2020, this switch will continue to support its own advanced mechanisms until the relevant standards approach the same level of functionality.
___________________________________________________________________________________________________________
Cisco Offers Upgrade Paths for LightStream[r] ATM Switches
Here's the good news: ATM technology is near a critical point as a number of key standards are finalized that enable the development and deployment of a new generation of ATM switches.
And the bad news? Most existing workgroup and campus ATM switches, for which multivendor interoperability is most critical, will need to be replaced or upgraded to support these standards.
In any field of technical endeavor, pioneering vendors begin with proprietary solutions simply because the market has not yet reached the critical mass that allows standards to form. By their very definition, standards imply consensus, yet when technologies are first emerging, it is too soon for consensus to be reached.
ATM is no exception. Early switches, such as the LightStream 100, have led the market and proven the potential of ATM with prestandard mechanisms for handling interswitch routing and managing switched virtual circuits (SVCs). As the ATM industry matures, these proprietary mechanisms must be supplanted by standard mechanisms, such as compliance with the Available Bit Rate class of service and Private Network-to-Network Interface (PNNI) Phase 1, which allow for interoperability among switches.
Cisco now makes it easy for customers to upgrade from the LightStream 100 to the LightStream 1010, which supports these important industry standards. Cisco has announced the LightStream 1010 in advance of its scheduled ship date to give current LightStream 100 users time to plan their upgrades. In addition, Cisco will offer LightStream 100 customers credit toward the purchase of the LightStream 1010 switch. This credit can also be applied toward the purchase of a LightStream 2020. For details, contact the Cisco office nearest you or your authorized Cisco partner/reseller.
___________________________________________________________________________________________________________
ATM adds new dimensions to managing a switched internetwork. For example, because ATM is connection-oriented -- unlike FDDI, Token Ring, and Ethernet -- the administrator may need to set up virtual connections, monitor several link statistics, or trace complex point-to-multipoint connections when tracking information about an ATM network and its users. Monitoring ATM traffic also poses extra challenges because of the sheer speed of ATM links and the general unfamiliarity with ATM concepts among those responsible for making sense of the raw data. Thus, the traditional tools and applications used to manage shared LANs will not suffice when managing an ATM network.
The construction of ATM networks that are truly easy to manage starts with the proper features in the ATM switches. Cisco Systems is implementing in the LightStream[r] switches -- starting with the LightStream 1010 -- features that facilitate the deployment of small-scale "plug-and-play" ATM networks by preconfiguring ATM address prefixes and providing automated mechanisms for reconfiguring switch addresses. Also, to facilitate the real-time monitoring of traffic through ATM switches, Cisco has devised mechanisms such as "port snooping" and circuit steering that are used to direct traffic to external ATM analyzers.
Using underlying ATM network management protocols such as the ATM Forum's Interim Local Management Interface (ILMI), the Simple Network Management Protocol (SNMP), as well as standard and proprietary ATM Management Information Bases (MIBs), Cisco's new AtmDirector[tm] application simplifies the installation and administration of ATM in switched internetworks. AtmDirector is a forthcoming, system-level ATM management application for configuring, monitoring, and troubleshooting a network of Cisco LightStream[tm] ATM switches and ATM-attached Cisco routers and Catalyst[tm] LAN switches. AtmDirector automatically discovers and illustrates the topology of the ATM network, displays real-time link information, and provides an intuitive interface for creating permanent virtual circuits (PVCs) across the ATM network. AtmDirector also facilitates ATM network interrogation and troubleshooting by allowing the selection of any virtual connection on an ATM link and tracing the connection's entire path. AtmDirector is fully integrated with CiscoView[tm], Cisco's graphical device management application that provides dynamic status, statistics, and comprehensive configuration information for Cisco Systems' LightStream 1010, Catalyst LAN switches, and Cisco routers.
___________________________________________________________________________________________________________
When network engineers at Credit Suisse New York began looking for ways to support increasing bandwidth requirements and multimedia traffic through the network backbone, they turned to Cisco Systems to help architect an effective migration to Asynchronous Transfer Mode (ATM) technologies.
"If you are looking at technologies beyond Fiber Distributed Data Interface (FDDI), ATM switching is the logical choice," says Marlon Drummond, an internal consultant and network engineer at Credit Suisse New York. Credit Suisse New York is a subsidiary of Credit Suisse Holdings, a worldwide financial services company with US $300 billion in assets worldwide. "ATM switching has the potential to send voice, data, and video simultaneously," Drummond continues. "It is less complex to run and more economical to operate than today's multiple-overlay networks, and it offers a lot of flexibility that you can't get with shared media."
ATM allows scalable bandwidth, spanning both local- and wide-area networks, and provides quality of service based on application type, rate queue, protocol, and other variables.
Credit Suisse's need for a more robust network backbone was prompted by a growing number of high-bandwidth LAN segments where other switching technologies, such as switched FDDI and 100-Mbps switched Ethernet, were being used. In the past, Credit Suisse used FDDI to connect the router backbone. But it became apparent that this solution would be insufficient as the company continued to add more FDDI rings and Ethernet segments. The answer was ATM.
"None of the other switching technologies can match ATM's flexibility and long-term promise, such as the potential for multigigabit transmission speeds," Drummond stresses. "For what we are trying to accomplish, ATM switching on the backbone is a must. Ultimately, we want to be able to deliver multimedia traffic, such as video broadcasts, to the trading floor. We chose an ATM router backbone because we knew it could support the load."
Credit Suisse engineers evaluated ATM offerings from several vendors, but were particularly impressed with Cisco Systems' products. "Cisco has the right approach to ATM and the complete product line to get us where we are going," Drummond says.
Switched internetworks integrate various types of switching devices into existing shared-media hub and collapsed backbone router networks to optimize the benefits of both routing and switching. Cisco's ATM switching solution includes the following integrated set of products:
The Cisco LightStream[r] family of ATM switches

The Cisco Internetwork Operating System (Cisco IOS[tm]) software for ATM

A wide range of ATM adapters

ATM routers, including the Cisco 7000 and Cisco 4000 families

ATM interfaces for LAN switching systems, including the Catalyst[tm] product family

Today, Drummond and other network engineers are designing a new switched internetwork that will keep their company on the cutting edge well into the 21st century. Central to this internetwork are the Cisco LightStream ATM switches.
"We're enhancing our network backbone to support high-speed traffic and multimedia data from multiple net-work segments," Drummond says. The LightStream ATM switches support this technical direction nicely, he adds, with their total nonblocking throughput of 2.4 gigabits per second (Gbps) and support for up to 16 ATM ports with full-speed unicast, multicast, and broadcast capabilities.
Because of its inherent flexibility, ATM internetworking will soon characterize the wiring on the trading floor at three Credit Suisse locations in New York City. Credit Suisse is building a network infrastructure that can support cross-functional project teams and interdepartmental work flows, so individuals can work together regardless of their physical locations.
The Credit Suisse enterprise internetwork combines the bandwidth of two Cisco LightStream 2020 ATM switches with the intelligence and filtering capabilities of Cisco routers.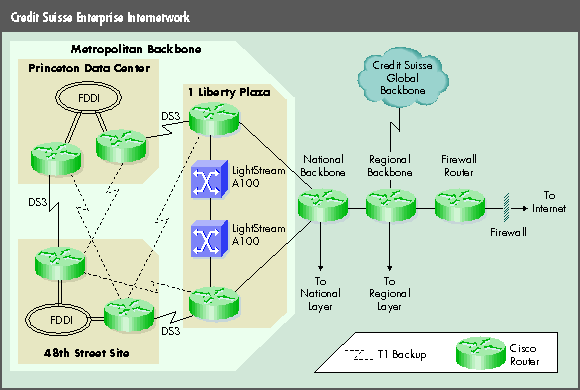 Most switches require administrators to enter each hop of a connection into every switch manually, Drummond explains, an extremely tedious process that requires manual updates whenever a change is made. Cisco's LightStream switches support soft permanent virtual circuit (PVC) protocols, which allow administrators to set up virtual connections with internal signaling and routing protocols. "Soft PVC allows administrators to automatically map all the nodes and all the routes through the network via virtual connections," says Drummond, "giving us the ability to easily and dynamically create and reconfigure the network."
Virtual network management will allow Credit Suisse to better support cross-functional work teams. "We can adapt the network to our organizational work flow, rather than constrain the organization to the physical bounds of the network," Drummond says. "Everything is software now. No more segmentation, no more rewiring. It's all done from the console."
Credit Suisse also values Cisco's ATM approach because it allows for a smooth migration from existing network infrastructures to new ones. Drummond thinks this evolutionary strategy will play well in the market. "Companies with copper-based and Ethernet networks are likely to approach ATM from the backbone using switches," he says. "You can have multiple physical media terminated at a switch, and the switch will take care of all the translation. It's a conservative approach that gives you a lot of flexibility for blending new and old networking technologies."
Many networking companies now offer ATM solutions, but Drummond and other Credit Suisse engineers believe that Cisco is the complete ATM vendor. "Other vendors focus more on the client or desktop side," Drummond says. "But in our view, Cisco is working from the right direction, which is from the backbone. If you are going to do ATM, this is a better place to start."
"Cisco's direction with ATM is setting the standard for where the market is going," Drummond concludes. "Shared data networks are dead. For new installations, everyone is switching now. And once they start looking at switching, an ATM backbone is an intelligent way to go."
As network engineers at Credit Suisse New York lay out the infrastructure for the company's new trading floor network, they are looking to Cisco Systems and Teknekron Software Systems for optimal network and application performance. Many existing trading floor networks require one router for each network segment in order to broadcast Teknekron market data simultaneously to many users.
An important new feature of the Cisco IOS[tm] software called User Datagram Protocol (UDP) TurboFlooding uses the CPU power and fast switching of Cisco's high-end routers to take data packets from a "feed" network and broadcast them out of selected router interfaces. In the brokerage environment, this capability enables fast dissemination of information to the desktops of traders on the trading floor. Network managers can combine it with use of the spanning-tree algorithm to avoid unnecessary packet duplication and network loops, thus saving network bandwidth and improving resilience.
"TurboFlooding allows us to pump three times as much market data through each router," says Tugrul Firatli, Credit Suisse's Director of Network Consulting Services. "We're fanning market data to four network segments from each router, yet the message rates are even higher than they were when we had one router dedicated to each segment."
The fully integrated Cisco and Teknekron solution not only improves performance by more than 60 percent, it cut costs substantially because Credit Suisse needs fewer routers to handle the same amount of network traffic. Teknekron is working closely with Cisco to integrate ATM solutions into the Teknekron trading software in order to supply additional bandwidth for new types of multimedia applications. "Cisco and Teknekron's integrated solution dramatically cut our costs while at the same time enabling us to achieve exceptional network and application performance," says Michael Smith, Director of Telecommunications and Trading Technology at Credit Suisse.
"ATM allows us to deliver market data and video teleconferencing traffic to the desktop on a single wire," says Firatli. "These applications require lots of bandwidth, well beyond what conventional Ethernet solutions can supply. We're using Cisco's ATM routers and LightStream switches to accomplish this."
Copyright 1988-1995 © Cisco Systems Inc.