Product Number: PKG-GSR8=
This document describes the shipping container for the Cisco 12008 Gigabit Switch Router (GSR).
The Cisco 12008, a member of the Cisco 12000 series of Internet routing products, is built around a high-speed switching fabric that is scalable from 10 to 40 Gbps, providing high performance to support Internet Protocol (IP)-based local-area networks (LANs) and wide-area networks (WANs).
The Cisco 12008 is 17.4 inches (44.2 cm) wide, 21.2 inches (54.4 cm) deep, and 24.8 inches (63 cm) high. A fully configured system with two AC-input power supplies weighs approximately 187 lb (85 kg). The Cisco 12008 shipping container is 25.3 inches (64.3 cm) wide, 37.7 inches (95.8 cm) long, and 31.8-inches (80.8 cm) high. The shipping materials weigh approximately 44 lb (20 kg).
A system packaging kit has been designed for the Cisco 12008. This is the same packaging kit used to ship your system originally. The kit includes a shipping pallet and an accessories box. If your original system packaging is damaged or has been discarded, you must order a replacement system packaging kit in order to safely ship the Cisco 12008 to another location.
Review the safety guidelines in this section to avoid injuring yourself or damaging the equipment.
Before installing, configuring, or maintaining the router, you should review the safety warnings listed in the document Regulatory Compliance and Safety Information for the Cisco 12000 Series Gigabit Switch Routers (Document Number 78-4347-02) that accompanied your Cisco 12008.
The following guidelines will help ensure your safety and protect the equipment. This list is not inclusive of all potentially hazardous situations, so be alert.
Always disconnect all power cords and interface cables before moving the system.
Keep tools and assembly components away from walk areas.
Do not work alone if potentially hazardous conditions exist.
Do not perform any action that creates a potential hazard to people or makes the equipment unsafe.
Carefully examine your work area for possible hazards such as moist floors, ungrounded power extension cables, and missing safety grounds.
A fully configured Cisco 12008 weighs approximately 187 lb (85 kg), and its packing material weighs approximately 44 lb (20 kg).
Whenever you lift any heavy components, follow these guidelines:
Have a second person available to help lift the component(s); avoid lifting the component(s) alone.
Ensure that your footing is solid and balance the weight of the object between your feet.
Lift the chassis slowly; never move suddenly or twist your body as you lift.
Keep your back straight and lift with your legs, not your back. If you must bend down to lift the assembly, bend at the knees, not at the waist, to reduce the strain on your lower back muscles.
Always disconnect all external cables before lifting or moving the component.
The line cards, Gigabit Route Processor (GRP), switch fabric cards, clock scheduler cards, fan trays, and redundant power supplies are designed to be removed and replaced while the system is operating without presenting an electrical hazard or damage to the system.
Follow these basic guidelines when working with any electrical equipment:
Before beginning any procedures requiring access to the interior of the Cisco 12008, locate the emergency power-off switch for the room in which you are working.
Look carefully for possible hazards in your work area, such as moist floors, ungrounded power extension cables, and missing safety grounds.
If an electrical accident occurs, proceed as follows:

Use caution; do not become a victim yourself. Disconnect power to the system.
If possible, send another person to get medical aid. Otherwise, assess the condition of the victim and then call for help.
Determine if the person needs rescue breathing or external cardiac compressions; then take appropriate action.

Disconnect all power and external cables before installing or removing a router.
Never assume that power has been disconnected from a circuit; always check.
Do not perform any action that creates a potential hazard to people or makes the equipment unsafe.
Never install equipment that appears damaged.
Carefully examine your work area for possible hazards such as moist floors, ungrounded power extension cables, and missing safety grounds.
In addition, use the guidelines that follow when working with any equipment that is disconnected from a power source, but still connected to telephone or network wiring:
Electrostatic discharge (ESD) damage, which can occur when electronic boards or components are handled improperly, can result in complete or intermittent failures.
Following are guidelines for preventing ESD damage:
Always use an ESD-preventive wrist strap or ankle strap and ensure that it makes good skin contact.
When removing or installing a component, connect the equipment end of a ground strap to one of the two ESD ground sockets located on the front sides of the upper card cage or to bare metal on the frame.
If you plan to return a replaced component to the factory, immediately place it in a static shielding bag to avoid ESD damage to the component.
The wrist strap protects the part only from ESD voltages on the body; ESD voltages on clothing can still cause damage.
| | |
| --- | --- |
| | Caution You should periodically check the resistance value of the antistatic strap. The measurement should be between 1 and 10 megohms. |
The packaging materials for the Cisco 12008 include a pallet, foam inserts, an accessories box, a cardboard box, and a cardboard box sleeve. The cardboard box slides over the cardboard box sleeve, which fits snugly over the pallet. (See Figure 1.) You need the following items to unpack or pack the Cisco 12008:
| | Unpacking | Packing | Purpose |
| --- | --- | --- | --- |
| 1/4-inch flat-blade screwdriver | X | X | To remove the anchors from the Cisco 12008 |
| Wire cutters | X | | To cut the packing straps |
| ESD-preventive wrist strap | X | X | To prevent ESD damage |
| Antistatic mat or bag | X | X | To protect boards |
| Packing straps or carton-sealing tape | | X | To seal box for shipping |
If your original system packaging is damaged or has been discarded, you must order a replacement system packaging kit (Product Number PKG-GSR8=) from Cisco.
For guidance in packing or unpacking the Cisco 12008, refer to Figure 1.
Figure 1: Components of the Cisco 12008 Packaging System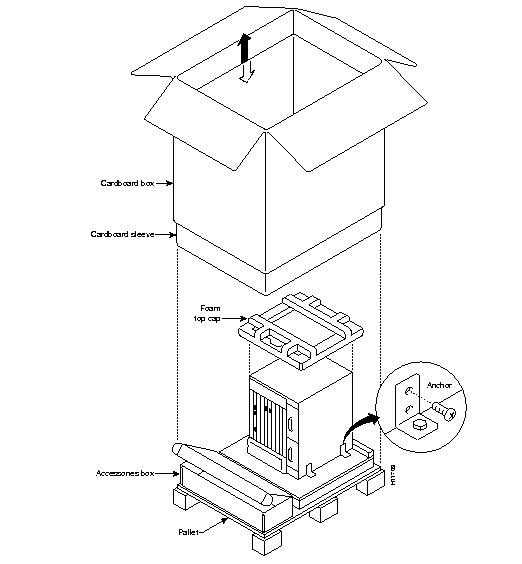 | | |
| --- | --- |
| | Caution To prevent damage, never attempt to lift or tilt the Cisco 12008 using the handles on the power supplies. These handles are not designed to support the full weight of the Cisco 12008. |
This equipment has been tested and found to comply with the limits for a Class A digital device, pursuant to part 15 of the FCC rules. These limits are designed to provide reasonable protection against harmful interference when the equipment is operated in a commercial environment. This equipment generates, uses, and can radiate radio-frequency energy and, if not installed and used in accordance with the instruction manual, may cause harmful interference to radio communications. Operation of this equipment in a residential area is likely to cause harmful interference, in which case users will be required to correct the interference at their own expense.
You can determine whether your equipment is causing interference by turning it off. If the interference stops, it was probably caused by the Cisco equipment or one of its peripheral devices. If the equipment causes interference to radio or television reception, try to correct the interference by using one or more of the following measures:
Turn the television or radio antenna until the interference stops.
Move the equipment to one side or the other of the television or radio.
Move the equipment farther away from the television or radio.
Plug the equipment into an outlet that is on a different circuit from the television or radio. (That is, make certain the equipment and the television or radio are on circuits controlled by different circuit breakers or fuses.)
Modifications to this product not authorized by Cisco Systems, Inc. could void the FCC approval and negate your authority to operate the product.
Cisco Connection Online (CCO) is Cisco Systems' primary, real-time support channel. Maintenance customers and partners can self-register on CCO to obtain additional information and services.
Available 24 hours a day, 7 days a week, CCO provides a wealth of standard and value-added services to Cisco's customers and business partners. CCO services include product information, product documentation, software updates, release notes, technical tips, the Bug Navigator, configuration notes, brochures, descriptions of service offerings, and download access to public and authorized files.
CCO serves a wide variety of users through two interfaces that are updated and enhanced simultaneously: a character-based version and a multimedia version that resides on the World Wide Web (WWW). The character-based CCO supports Zmodem, Kermit, Xmodem, FTP, and Internet e-mail, and it is excellent for quick access to information over lower bandwidths. The WWW version of CCO provides richly formatted documents with photographs, figures, graphics, and video, as well as hyperlinks to related information.
You can access CCO in the following ways:
WWW: http://www.cisco.com
WWW: http://www-europe.cisco.com
WWW: http://www-china.cisco.com
Telnet: cco.cisco.com
Modem: From North America, 408 526-8070; from Europe, 33 1 64 46 40 82. Use the following terminal settings: VT100 emulation; databits: 8; parity: none; stop bits: 1; and connection rates up to 28.8 kbps.
For a copy of CCO's Frequently Asked Questions (FAQ), contact cco-help@cisco.com. For additional information, contact cco-team@cisco.com.
If you are a network administrator and need personal technical assistance with a Cisco product that is under warranty or covered by a maintenance contract, contact Cisco's Technical Assistance Center (TAC) at 800 553-2447, 408 526-7209, or tac@cisco.com. To obtain general information about Cisco Systems, Cisco products, or upgrades, contact 800 553-6387, 408 526-7208, or cs-rep@cisco.com.